MALTESE RESCUE CONTACT

DEDICATED TO PEOPLE IN RESCUE

QUOTES

NATIONAL MALTESE SPECIALTY

WHAT TO DO IF YOUR NEW PUPPY IS BITING AND SNAPPING

HOW TO MAKE YOUR NEW DOG GET ALONG WITH THE OTHER DOGS IN YOUR HOUSE!

SEPARATION ANXIETY AND CLOMICALM - THE DOGGIE PROZAC!

DOES YOUR MALTESE HAVE GARBAGECANITUS?

ASK THE DENTALVET

DID YOU KNOW?

WHEN TICKS ATTACK!

POOL SAFETY

UPDATE ON FEBREZE!

MALTESE HOROSCOPE

MAY BIRTHDAYS

NEW ADDITIONS TO PHOTO ALBUM

NEW ADDITIONS TO THE FAMILY

LIBBY'S CHATROOM SCHEDULE

BUSTERS PRODUCT OF THE MONTH

JOKES

POEMS

JUST FOR FUN

BAMBI'S "PUP-POURRI" OF DOG TRIVIA

SMILES FROM OUR WHITE FURBABIES


The Taurus Dog 21 April - 21 May

The Taurus Dog is loving and cuddly. Taurus dogs are patient and reliable, always putting up with their owner's foibles and habits. They love to lay in front of a fire or curled on a blanket. The Taurus Dog relishes time with his owner and is a little jealous of others who interrupt that special time. Taurus Dogs are quiet and peaceful and are most comfortable when all is well and secure in their world, especially if there is a bone nearby.

Happy Birthday from MalteseOnly

SueM's Mandy 5/1
Kaye's Missy 5/2
Dottie's Kelly 5/5
Nicky's Misha 5/7
Debby's Tegan 5/7
Katy's Bear 5/8
DonnaMac's Mikki 5/8
Beth's Tucker 5/9
Nitsa's Gucci 5/9
Cathy's Heidi 5/11
SueM's Duffy 5/12
Kimberly's Kramer 5/12
Ruby's Scooby 5/13
Carole's Maxi 5/13
Bobbi's Bobo 5/13
Ruth's Butch 5/14
Debi's Tiffy 5/17
Lee Young's Pete 5/17
JD's Cindy 5/18
SandyM's Angel 5/18
Britt's Brittney 5/19
Michelle's Crissy 5/20
TriciaR's Niki 5/21
Beth's Jessica 5/21
Beth's Princess 5/22
Seawitch's Buster 5/22
Joshopper's Lacee 5/22
Daniels Cooper 5/22
Patti's Bowser Bailey Ek 5/23
Missy's Macinda 5/23
Bianco's Pretty Pebbles 5/23
Bianco's Sweet Sugar Baby 5/23
Leonioni's Beau 5/24
Janine's Alex 5/25
RobinD's Bailey 5/26
Jessica's Joey 5/26
Susan's Madison 5/27
Zeyneb's Munchkin 5/28
Trudy's Little Miss Courtney 5/28
Ruby's Angel Baby 5/29
Sheldon's Sheldon 5/30
Kathy's Lacy 5/30
Joshopper's Bitsy 5/31
Maria's Buddy 5/31
AnitaB's Anita's Ian Anton BooBoo 5/31


Happy Belated Birthday to:

Ros's Muffy 4/4
Debby's Cuici 4/8
Gail's Angel 4/12
Dolly's Danny 4/15
David & Desiree's Champ 4/19
Penny's Billy Bob 4/20

Our thoughts and prayers go out to the following:

Debbie who lost her Buddy

Diane who lost her Bogie Dog

Note: If you are having trouble dealing with the loss of your Maltese or any other pet please visit the following Internet sites: www.petloss.com or www.bestfriends.com. There are several support groups who can help in dealing with this loss.

NEW ADDITIONS TO PHOTO ALBUM

For MAY 1999
Submitted by Jay Bianco

Shira Yuki, Tally, Lil Miss Holly, Didi, Mikey,Lyssa,Kama,Tassle,Poquito,Scooter, Casey Joe, Li'l Buddy, Cupid, Fred, Lucca and Kirby, Mr. Whitley, Mika, Puff and Trevor, Noah, Gabriella, MegDoodle, Scamp, Nevar, Mip, Oliver Hecht, Corvo

(Special Note: If your photo has not been posted please be patient. Jay has received an overwhelming amount of photos either by snail mail or e-mail. Your baby's picture will get posted. Your patience is greatly appreciated.)

NEW ADDITIONS TO THE FAMILY

Julia's Louis
Meranda's P-nut
Heather's Journey
Realebert's Lady
John & Tekoa's Max
DeEtte's Max
Patty's Mikey
OrangeKate's Chestnut
Chuck's Buster
AnneH's Tanner
Sarah's Trevor
GailZ's Angel
CJ's Sammy
Julie's Boudreaux Pierre Mobley
Helen & George's Holly
Renee's Noah
Jezz's Jezabelle
Chris's CJ
Sara's Nala
Diane's Elliott
Mary's Spencer
Rebecca's Tyler
AngelPaw2's Angel
Brad's Jax
Alan's Katie
Kathie's Tori
Barbara's Nevar
Stella's Prancing Lady Ashley
Cynthia & Gordon Shaffer's Divine's Indecent Nights In White Satin, aka Indy

BUSTER'S PRODUCT OF THE MONTH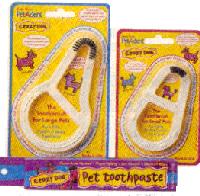 CRAZY DOG PET-A-DENT TOOTHBRUSH!
Crazy Dog Pet-A-Dent Toothbrush! Designed by a professional to promote safe, positive dental experiences for you pets. Easy to grip. Kelps kep your dog's mouth open while you clean. Curved, black bristles remove plaque & food particles. The small size has teething bumps to help improve circulation to aid in tooth eruption. Comes in small and large. One of the Best & Safests Toothbrushes on the Marked. Comes with Crazy dog Toothpaste - great tasting peanut butter flavored. Can be found in most Pet Cataloges and Stores.
BIANCO'S BACI MI BAMBINA'S (BAMBI) "PUP-POURRI" OF DOG TRIVIA
In a University of Maryland study, over 40% of the respondents admitted that more affection is paid toward the family pet than toward all other household members!
Ever wonder how some dogs seem to know when certain family members are moments from arriving home? Dogs can hear sounds four times farther away than what humans can hear. Dogs can also distinguish sounds that are as little as one-eigth difference in tone.
Dogs are masters of expression, though sometimes their physical cues are confusing to people. Think of the saying "a dog's bark is worse than his bite" -- many vociferous dogs, maybe even scary sounding barkers are nothing less than friendly.Canine moods may be fleeting depending upon a dog's surroundings. These tell-tale signs can be helpful at predicting what mood a dog is in:
Angry: Fierce barking, growling, lips curled up showing teeth, tail wag. Happy: Relaxed ears, wagging tail. May eagerly pant. Frightened: Cowering, whining, shaking, flattened ears and tail tucked under. Nervous panting.


Heaven's Doggy-Door

My best friend closed his eyes last night, As his head was in my hand.
The Doctors said he was in pain, And it was hard for him to stand.

The thoughts that scurried through my head, As I cradled him in my arms.
Were of his younger, puppy years, And OH...his many charms.

Today, there was no gentle nudge, With an intense "I love you gaze",
Only a heart thats filled with tears, Remembering our joy filled days.

But an Angel just appeared to me, And he said, "You should cry no more,
God also loves our canine friends, He's installed a 'doggy-door"!

© 1997, Mary Ellen Arthur Excalibur Cavaliers
---
"In the Candle's Glow"

Warm light coming from far below,
Twinkling, sparkling is the candle's glow.
All is well up on the ridge,
The place we know as Rainbow Bridge.
Furbabies sleeping in heaven's light,
Tended by candles in the night.
Peaceful dreams be theirs to keep,
As they slumber in this night so deep.
Hearts on earth that miss them so,
Take comfort in the candle's glow.
Watching for them in skies above,
Bound eternally by a cord of love.
Author Laura Hickman
---
We Have A Secret

We have a secret, you and I
that no one else shall know,
for who but I can see you lie
each night in fire glow?
And who but I can reach my hand
before we go to bed
and feel the living warmth of you
and touch your silken head?
And only I walk woodland paths
and see ahead of me,
your small form racing with the wind
so young again, and free.
And only I can see you swim
in every brook I pass
and when I call, no one but I
can see the bending grass.
Author Unknown
---
Plush Stuffed Toy

If you require a puppy
That isn't noisy and doesn't chew,
Who won't pee on the carpet,
or one who Will never shed or make a mess,
And Will never bite under severe duress,
There's only one breed that will bring you joy,
It's the All-American Plush Stuffed Toy!
-Anon



Seeing Eye Dog
(supposedly a true story)
Submitted by KathyM & DebbieB

I was flying from San Francisco to Los Angeles. By the time we took off, there had been a 45-minute delay and everybody on board was ticked.Unexpectedly, we stopped in Sacramento on the way. The flight attendant explained that there would be another 45-minute delay, and if we wanted to get off the aircraft, we would reboard in 30 minutes.

Everybody got off the plane except one gentleman who was blind. I noticed him as I walked by and could tell he had flown before because his Seeing Eye dog lay quietly underneath the seats in front of him throughout the entire flight. I could also tell he had flown this very flight before because the pilot approached him and, calling him by name, said, "Keith, we're in Sacramento for almost an hour. Would you like to get off and stretch your legs?"

Keith replied, "No thanks, but maybe my dog would like to stretch his legs."

Picture this ... all the people in the gate area came to a completely quiet standstill when they looked up and saw the pilot walk off the plane with the Seeing Eye dog! The pilot was even wearing sunglasses. People scattered. They not only tried to change planes, they also were trying to change airlines!
---
LIFE LESSONS LEARNED FROM A DOG
Submitted by Cindy Shaffer & ShelleyJ

1. If you stare at someone long enough, eventually you'll get what you want.

2. Don't go out without ID.

3. Be direct with people; let them know exactly how you feel by piddling on their shoes.

4. Be aware of when to hold your tongue, and when to use it.

5. Leave room in your schedule for a good nap.

6. Always give people a friendly greeting. A cold nose in the crotch is most effective.

7. When you do something wrong, always take responsibility (as soon as you're dragged shamefully out from under the bed).

8. If it's not wet and sloppy, it's not a real kiss.
---
Top Fifteen Clues that your Maltese owns You:
Submitted by Mary Koutrakos

15. You subscribe to The Maltese Rx so he can look at the pictures of the pretty girls.

14. When thinking of your wedding day, you plan on having your Malt as the official "flower dog"

13. You subscribe to the additional cable channels, only to have Animal Planet for your Malt.

12. Your Maltese eats off of Lenox china, you eat off of paper plates.

11. You finally purchased yourself a beautiful $250 pair of Bruno Magli shoes, only to have your Maltese chew them up, rather than getting upset, you tell your malt "You can have them, they pinched my feet anyway."

10. You only have one Maltese, but three Sherpa bags, four collars and seven sweaters for him. By the way, you own no luggage, jewelry or clothing for yourself.

9. You no longer have friends of your own. You only socialize with people owned by other dogs, and you can never remember the humans names, just their dogs and refer to them as your Malt's friends

8. If you can't take your Malt out for a walk due to weather, you call in sick to work the next day for an outing in the park, a result of the guilt you feel.

7. You turn the ringer off on your phone as not to disrupt your Malt's nap time.

6. When you see your malt scratching, and it doesn't look like he can reach the itch himself, you immediately stop what you are doing to assist him in the scratch.

5. You only patronize stores that allow your Malt to come in with you.

4. The only meals you know how to cook are for your Malt.

3. The only reason you have Internet connection is for Maltese Only so your malt can participate in the chat room.

2. When you take a shower in the morning, you leave the shower curtain open on the other end of the tub so your malt knows where you are.

1. When you make your bed in the morning and shake your comforter, five nylabones, two squeaky toys and a booda velvet fall onto the floor.
---
PET PERCH CAR SAFETY SEAT
http://www.malteseonly.com/petperch.html
The Pet Perch retails elsewhere for $39.95, your cost through this Special Offer will be only $24.95 + $7.25 shipping & handling with $5.00 going to The National Maltese Rescue Fund. This special offer available only through the MalteseOnly Website. To get yours, simply mail a check or money order for $24.95 plus $7.25 for shipping and handling for a total of $32.20 (anywhere in the continental US), Florida residents add applicable sales tax to:
Jay Bianco
PO Box 383
Mt. Morris, Pa. 15349
Please allow 1-2 weeks for delivery via UPS
A special thanks goes out to the Sponsors of MalteseOnly:
Woof Online Auctions

http://www.malteseonly.com/auction

Note: If you wish to submit an article, poem, joke, birthday, etc. for MalteseOnly News please send an email to: Libby@malteseonly.com All submissions must be to me by the 25th of the month.
Thanks to the many people who have made the Maltese Only Website and Newsletter such a success. A special thanks go out to our Sponsors.
---
As quoted by Dr. Jane Leon, from America's Health Network, "Be good to your pets, they try so hard to be good to you and for you"
---


Get a free MalteseOnly email address
TO SUBSCRIBE
OR UNSUBSCRIBE
To unsubscribe from the MalteseOnly Newsletter, simply go to http://www.malteseonly.com/subscribe.html then enter your email address and check "unsubscribe" or subscribe and submit.
---
Maltese Only Newsletter
© 1999 All Rights Reserved

Tell a friend about our Newsletter
May 1999
Maltese Only News

Editor's Note:
Welcome to MalteseOnly News! MalteseOnly went online in May of 1996. Created by Jay and Bev Bianco of Mt. Morris, PA. Today several thousand visitors daily find themselves at this website.
The Maltese Only site provides a multitude of information on the health, care and training of a Maltese. The Discussion Forum is the #1 Dog Discussion on the Internet.
Maltese Only has the most dedicated fans on the Internet. This Maltese Only News is dedicated to them.
To unsubscribe from the MalteseOnly Newsletter, simply go to http://www.malteseonly.com/subscribe.html then enter your email address and check "unsubscribe" and submit. You will be removed immediately from any future mailings and announcements.
Libby Johnson, Editor
Libby@MalteseOnly.com
Jay Bianco,Co-Editor

M ALTESE RESCUE
Jay and Bev Bianco - (724) 324-9401
Mt. Morris, PA

Interested individuals may now subscribe to the new National Maltese Rescue email list of announcements. To subscribe or unsubscribe, point your browser to:
http://www.malteseonly.com/rescues.html
*DEDICATED TO PEOPLE IN RESCUE*

TAKING CARE OF RESCUE DOGS
Taking care of rescue dogs
Is something I do best.
I know because I've done it,
And I've surely passed the test.
The dogs I've bathed, the food I've fed,
The vacuuming I've done,
And all to watch a frightened soul
Sit dreaming in the sun.
My own dogs I've neglected,
But I tell them everyday
That I love and cherish each of them
Though a new dog's come to stay.
I know they understand this,
For in their eyes I see
The love that I have given them
Come shining back at me.
Some people think I'm crazy,
Some others think I'm great.
But very few can understand
What really is at stake.
If I can love and help a dog
To find a better way,
My own life is much richer,
I look forward to each day.
So now you know my secret,
It's there for all to see,
The love I give, the life I save,
I do it all for me.
by Kathleen Parsons

SPECIAL RESCUE STORY - Princess Tracey
Submitted by Libby
"Maltese Princess - New York City
Sweet personality, female Maltese needs a loving home. Found tied to a guardrail in (Brooklyn) New York City. Has been vet checked and she appears to be in good health. Was brought up to date on all shots. She has been tattooed - registered to a New York address that I have been unsuccessful in locating. According to the tattoo she was born 9-18-90. She is in temporary foster home right now. Interested individuals please contact Jay or Bev Bianco at 724-324-5379. Thanx."
This was posted on the MalteseOnly Discussion forum. Jay and Bev went to work making numerous calls. A few Maltelovers that frequent the site were helping out also making phone calls. Then the post from Isabel came up. Isabel had found the actual Owner of this little girl. It was wonderful news. The owner, Kathleen contacted the foster mom, Deborah and they got together and reunited Princess/Tracy with her rightful mommie. It was such a wonderful story. Deborah of course had grown attached to Princess/Tracy and it was very difficult to let go. Kathleen has promised to keep Deborah up on Princess/Tracy's progress and let her visit if she wants. The National Maltese Rescue thanks all that were involved in this wonderful rescue story.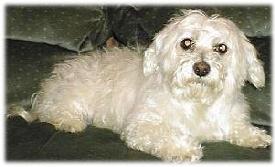 QUOTES
Submitted by Cathy Brown
"Whoever said you can't buy happiness forgot about puppies." - Gene Hill
Submitted by LibbyJ
"A dog is not "almost human" and I know of no greater insult to the canine race than to describe it as such. The dog can do many things which man cannot do, never could do and never will." John Holmes
Submitted by KathyM
"He is your friend, your partner, your defender, your dog. You are his life, his love, his leader. He will be yours, faithful and true, to the last beat of his heart. You owe it to him to be worthy of such devotion" - Unknown
Submitted by Paula & John Crawford
"I think animal teasing is a terrible idea; they get all nervous and give the wrong answers." Unknown

NATIONAL MALTESE SPECIALTY
Announcement:
1999 National Maltese Specialty Show -
New Orleans, LA May 26-28, 1999 - YES!
Highlights along with results from the 1998 show in Harrisburg,PA can be found at:
http://www.malteseonly.com/8amaindex.html
Watch Maltese Only for results, photos and highlights of the upcoming 99 Specialty Show

WHAT TO DO IF YOUR NEW PUPPY IS BITING AND SNAPPING
By Adam G. Katz
The answer to this question really depends on how old your puppy is. Many dog training books advocate the infamous "Alpha roll," where you roll the puppy over and pin him on his back.
Don't pin him... even though the mother dog may do this... WHEN she does it and HOW she does it are things that the amateur dog handler.... even sometimes the experienced handler... will never be able to replicate properly.
If the dog is really young, like 7 or 8 weeks old, you basically want to redirect the biting behavior towards a toy or chew bone. If the pup is simply in an ultra rambunctious state, put him in the crate. This is not punishment, however, it's just confining him to an area where he can't develop these bad behaviors. Similar to putting a baby in a crib, or a play pen.
Sometimes, you can quickly bend the lips around the teeth of the pup and say "No."... so that the dog learns if he bites you, the response is something that doesn't feel good. Just beware that you don't let this turn into a game.
If the dog is a bit older, like 12 or 13 weeks, you can put a small, light pinch collar and tab (a 3/4' leash) on the dog, and give a light (caution:light) pop on the leash. Again, the dog will not continue to do a behavior which does not feel good. This technique always works... just use common sense, read your dog, and be careful not to over-correct. But at the same time, make sure that the correction IS motivational. I.E., if the dog keeps doing the behavior, that's usually a good sign that your correction isn't motivational.
You'll be fine. Most likely, depending on the dog's age, he'll grow out of it even if you don't do anything. But again, this depends on the temperament and breed.

DOES YOUR MALTESE HAVE GARBAGECANITUS?
Does your Maltese love to root through the garbage can? The Garbage can carries lots of bacteria and foreign bodies that are dangerous for your dog to eat. Please! Put the trashcan under the cabinet, or on the counter. If that is not possible then please empty the trash every day. Keep it out of your Malts reach.


ASK THE DENTALVET
Dr. Jan Bellows, DVM
Dr. Bellows specializes in the treatment of small animals, and is a Diplomate to both the American Board of Veterinary Practitioners and the American Veterinary Dental College. His practices, All Pets Dental Clinic and Pet Health Care Center, have been caring for your pets since 1977. All Pets Dental Clinic is located in Pembroke Pines, Florida just north of Miami and west of Fort Lauderdale. http://www.dentalvet.com
QUESTION: Dear Dentalvet,
My Maltese's mandible is about 2-3 mm in front of the maxilla. I was told that this is not normal. Is there anything that can be done for this condition and if nothing is done, what are the usaul consequences? Thank you, Brian and "Tally"
DENTALVET: What you are describing is an underbite which is abnormal. Sometimes the lower teeth will interfere with the upper teeth and need to be orthodontically moved to allow a comfortable bite.
QUESTION: My puppy Nala is 4 and a half months. I noticed that she lost her front tooth . Is it early? Is she on time? Does it hurt her? I would take any advice...Sara
DENTALVET: Tooth loss should take place between 4-6 months. The root is usually resorbed. There is no pain.
QUESTION: Are the Dentalbones good for my dogs teeth?
DENTALVET: Yes they are helpful but do not in any way take the place of daily brushing
To submit questions for "Ask the Dentalvet" email Libby@malteseonly.com

DID YOU KNOW? "There's only so long that a dog can run around a field before it starts chasing a rabbit."
Dog Fancy Magazine
"Consistently overhandling your dog's feet in a non-threatening way can solve clipping trauma."
Dog Fancy Magazine
What's the fastest, easiest, least expensive way to reward your dog? Praise him when he/she sits or fetches on command. Verbal praise reaches your pet before tangible things like dog biscuits. Your approval becomes the reward your pet wants most.
Prevention's Guide Cats & Dogs
U.S. shelters take in 8 to 12 million animals each year and approximately 40-60 percent are euthanized. Spaying and neutering your pets will help decrease these sad statistics.
America's Health Network

WHEN TICKS ATTACK!
Despite your best efforts, a tick may attach itself to your Maltese. Don't try burning it, suffocating it or any other home remedy. Simply: Put on gloves (or use a tissue) Or use tweezers Grasp the tick by the body Pull the tick straight out. See your veterinarian if part of the tick remains under the skin; the area could become infected. Otherwise, flush the tick and wash the affected area and your hands thoroughly; ticks can transmit disease through exposed skin. If ticks are prevalent where you live, use a spot-on that kills ticks and fleas or a good tick collar during outdoor expeditions.

POOL SAFETY!
Summer is almost here. We will be opening up our pools soon and our dogs love to go swimming. Here are some pool safety tips to follow:
1. Your dog should wear a Doggy Life Preserver.
(This applies to taking your dog out on a boat also) 2. Make sure your dog can get out of the pool.
3. Show him/her where the pool is
4. Show him/her where the pool steps are so that he/she can easily get out 5. Fence in around the pool to keep your dog out.
Remember! Pool covers don't work. Your dog or cat can fall in and get stuck under the cover. So practice water safety not only with your human kids but your four legged ones too.

UPDATE ON FEBREZE!
Since December, an e-mail has circulated claiming Febreze, a product used to eliminate odors, has proven harmful to pets. Proctor & Gamble, manufacturer of the product and the ASPCA's National Animal Poison Control Center have investigated the issue and have not found any truth to the claim that Febreze is harmful.
Dr. Steven Hansen, ASPCA Senior Vice President and Diplomate of the American Board of Veterinary Toxicology issued this statement on the Febreze controversy:
"Veterinary toxicologists at the ASPCA National Animal Poison Control Center are conducting an on-going investigation into claims that use of Febreze(tm) in the home caused the death of several pets. All information reviewed to date suggests that there is no evidence that Febreze(tm) represents any risk to pets when used according to label instructions. Presently, the center considers the product safe to use in households with pets. As with any cleaning product, the center recommends that birds be removed from the room until the product application has dried and the area has been ventilated. please call 1-800-345-4735 if you have any questions or have a pet that you suspect is experiencing problems." Dr. John Reagor, head of toxicology at the Texas Veterinary Medical Diagnostic Laboratory also agreed on the safety of Febreze, stating: "Used according to label instructions, the safety of Febreze is not a concern. We have not received any cases indicating adverse reactions to Febreze."
Proctor & Gamble, whose family of products includes Crest toothpaste, Pampers and Pringles voluntarily disclosed "Febreze is a water based product whose primary active ingredient is a modified starch derived from corn, specially designed to eliminate a wide range of odors. The product also contains minute amounts of perfume". Until December of 1998, Febreze also contained zinc chloride, an ingredient used in eyedrops, mouthwash and approved by the FDA for use in pet foods. The ingredient was eliminated when a newer, improved version of Febreze was released to the market in December, after a two year planning period. Procter & Gamble has also issued safety guidelines informing consumers to use Febreze according to the label instructions. The instructions include allowing the spray to dry on items before using, to keep Febreze spray away from the faces of people and pets, to use Febreze on fabrics only and like with all cleaning products, to keep Febreze out of the reach of pets and children.



MORE JUST FOR FUN
Submitted by Jay Bianco

A man wrote a letter to a small hotel in a midwest town he planned to visit on his vacation. He wrote:

"I would very much like to bring my one Maltese dog with me. He is well-groomed and very well behaved. Would you be willing to permit me to keep him in my room with me at night?" An immediate reply came from the hotel owner who said :

"I've been operating this hotel for many years. In all that time, I've never had a dog steal towels, bed clothes or silverware or pictures off the walls. I've never had to evict a dog in the middle of the night for being drunk and disorderly. I've never had a dog run out on a hotel bill.

Yes indeed, your Maltese is welcome at my hotel. And if your dog will vouch for you, you're welcome to stay here, too."
DOG TITLES:
Submitted by Jay Bianco

A few dog owners in cyberspace have a few titles that any dog can earn - without any special training! Most of these come quite naturally to some dogs.

AD (attention deficit)
ARB (ace refrigerator bandit)
BW (butt wagger)
BWX (butt wagger excellent)
CC (cat - courser)
CCX (cat - courser excellent)
CP (couch potato)
CPX (couch potato excellent
CSX (counter surfer extrordanaire)
GFIY (go fetch it yourself)
HHP (House Hold Pet)
IDDI (I didn't do it)
ILF (I like food)
ILLF (I like lots of food)
IWFF (I work for food)
LD (lap dog)
LDX (lap dog excellent)
OWTH (Oh, What The Heck)
TBF (thick but friendly)
TGS (terribly good snorer)
TGAN (terribly good at nothing)
TSIM (that seat is mine)
TTIM (that toy is mine)
UNCD (under the covers dog)
UNCDX (under the covers dog excellent )
WM (who me?)
GIFTS FOR THE TEACHER
Submitted by Bev Bianco

It was at the end of the school year, and a kindergarten teacher was receiving gifts from her pupils. The florist's son handed her a gift.She shook it, held it overhead, and said, "I bet I know what it is. Some flowers." "That's right" the boy said, "but how did you know?""Oh, just a wild guess," she said. The next pupil was the sweet shop owner's daughter. The teacher held her gift overhead, shook it, and said, "I bet I can guess what it is. A box of sweets." "That's right, but how did you know?" asked the girl. "Oh, just a wild guess," said the teacher. The next gift was from the son of the liquor store owner. The teacher held the package overhead, but it was leaking. She touched a drop of the leakage with her finger and touched it to her tongue. "Is it wine?" she asked. "No," the boy replied, with some excitement. The teacher repeated the process, taking a larger drop of the leakage her tongue. "Is it champagne?" she asked. "No," the boy replied, with more excitement. The teacher took one more taste before declaring, "I give up, what is it?" With great glee, the boy replied, "It's a puppy!
MALTESE POKER PLAYER
Submitted by Bev and Jay

An Easterner who walked into a Western saloon was amazed to see a Maltese dog sitting at a table playing poker with three men. "Can that Maltese really read cards?" he asked. "Yeah, but he ain't much of a player," said one of the men. "Whenever he gets a good hand he wags his tail."
Question: What is the dogs favorite city?
Answer: New Yorkie!
DOG BITES?
Submitted by BevandJay

Two men are sitting on a bench, one man saw a dog by the other man and asked if his dog bites. The man said no. So the other man reaches down to pet the dog and the dog bites him. The Man said "I thought you said your dog doesn't bite". The other man said "that's not my dog"

DOG SHOW
Submitted by BevandJay

It was a slow day in heaven so God telephoned Satan to see what was going on. "It's slow here too," says Satan. "Well," God said, " I think a dog show might be fun. Let's put on a dog show." "Sounds good," says Satan, "But why are you calling me? You've got all the dogs up there." "I know," answered God, "But, you've got all the judges down there!"
---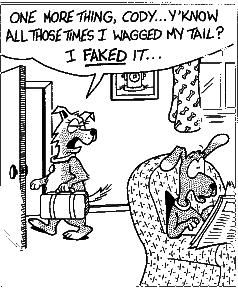 ---

IMPORTANT PHONE NUMBER!

The National Animal Poison Control Center has a 24-hour toll-free number to assist with poisoning problems -- 1-800-548-2423.