MALTESE RESCUE CONTACT
DEDICATED TO PEOPLE IN RESCUE
QUOTES
WESTMINSTER DOG SHOW
MALTESE NATIONAL SPECIALTY
CAN DOGS TALK?
WHAT IS MY DOG SAYING?
SEPARATION ANXIETY
SIGNS YOU ARE A MALTESE DOG PERSON
MALTESE HOROSCOPE
MARCH BIRTHDAYS
NEW ADDITIONS TO PHOTO ALBUM
NEW ADDITIONS TO THE FAMILY
LIBBY'S CHATROOM SCHEDULE
BUSTERS PRODUCT OF THE MONTH
JOKES
POEMS
JUST FOR FUN
BAMBI'S "PUP-POURRI" OF DOG TRIVIA
SMILES FROM OUR WHITE FURBABIES
FAQ - TEARSTAINING
The Pices Dog 19 February - 20 March


The Pices dog is a kind and loving dog. They have a giving nature, and are very caring dogs. They make great rescue dogs, and they love riding up on the seat of a fire engine. Because of their selfless nature they are easygoing around the house, never upset to make any changes to please his owner. They are easy to train and love to go for long walks. Especially if those walks lead to a park.

Happy Birthday from MalteseOnly

OrangeKate's Tigger 3/97
BarbaraO's Jasmine 3/1
Piesper's Whisper 3/2
JC's Brandi Lee 3/3
Cindy Bray's Tassle 3/3
Marie Ajram's Rocko 3/3
AprilB's Noah 3/6
Bianco's Crystal Keepsake 3/6
Beth Lauer's Sammy 3/12
Tammy's Blaze 3/13
Corkey's Scooby Doo 3/13
Jeannie F's Ellie 3/15
Jan Scofield's Sammy 3/15
Debbie Newill's Gigi 3/16
Melissa Kievit's Trisket 3/20
Bab's Remington Steele 3/22
Teasermom's Paisley 3/22
Janet Starr's Fluffy 3/25
TeraC99's Chance 3/26
Sheri Mathew's Teddy Bear 3/30
NCM's Sally 3/31

Belated Birthday Wishes go out to:
Ken's Goliath 2/12
Joan Garvin's Kirby 2/8
Ginnylee's Tara 2/24

NEW ADDITIONS
TO PHOTO ALBUM

Cosmo
Misty
Emma Kate & MacKenzie
Duo Duo
Myi's First Impression
Yuki
Sweet Puddin'
CH Comicuties Classie Lady
Buster
Teddy
Thumper Sebastin
Bailey
Chadol
Phyllis
Furball
Poulenc
Gucci
Katie
Doodlely
Token
Lil Cas
Misty and Simon
Tiffany
Rudi
Tuffy
Sharma Sue and Gilbert
Toby
Lalita
(Special Note: If your photo has not been posted please be patient. Jay has received an overwhelming amount of photos either by snail mail or e-mail. Your baby's picture will get posted. Your patience is greatly appreciated.)

NEW ADDITIONS
TO THE FAMILY!

Jake & Sue Thompson's Max
JoanG's Kirby
M's Mindy
Lupie's Eddie
KarenF's Tuffpuppy
Lisa W's Kiwi
Sheila B's Romy
Adara's Abigail
Sue M's Mandy
Nitsa & Steve's Gucci
Kelsi's Kelsi Rose
Bubbajones' Madison
Christine's Bacci
HB's Chelsea Girl
Ginnylee's Tara
Duffsmom's Duffy
Robin Mc's Chloe
Puppyluv's Dustin
Melanie's Ziggy
Vita's Boris

My wife and I recently had to put our 14-year-old Maltese pet dog, Beau to rest. Needless to say we were both devastated. In memory, I had the following inscription placed on his headstone so that whenever we visited his grave, my wife could be somewhat comforted. I had written this inscribed letter in Beau's behalf, on Mother's Day just a few weeks prior to his death.
TO A VERY SPECIAL MOM
Dear Mommy,
In a few days I'll be 14 years old and I want you to know that I think you're the best darn mommy in this whole wide world. You're always looking out for me and caring for me in a very special way. You always make sure that I eat the right food, get lots of sleep and plenty of exercise. You never forget to wash my pretty dark eyes and you always put a bow in my hair to make me look pretty. I'm a very lucky dog to have such a loving and caring mom who always treats me in a very special way. I'll always love you and remember you for taking such good care of me. With much love,
Beau
submitted by Paul Radtke
A year ago,
I did not know of MO and all the wonderful people here. I could have used the support when my precious Sugar died. She was only two years four months. I still suffer at her memory. However, she had a wonderful life...she was always happy and brought only joy to me, my family, and everyone she met. She also went almost everywhere with us (rarely home alone for more than just a few hours!).

I brought in a healthy happy dog for her annual vaccination. Sadly, the vaccination triggered an autoimmune reaction and she died a week later from autoimmune hemolytic anemia, She remained hospitalized that week and I was there several times a day. She died in my arms...there was never any pain, she just faded away from severe anemia (her white blood cells were stimulated from the vaccination and instead of producing antibodies, they attacked her very own red blood cells). There is more to the story (the vet failed me in ways I will not go into). At any rate, she passed away February 2, 1998 - a year ago tomorrow. We will light a memorial candle for her and have a memorial service by her gravesite. Even though I live in a northern climate, a rose bloomed that week on a bush that had not bloomed in years. To add to that, our little Bailey, who we took home in April, was born on January 30. When we met Bailey we were convinced that Sugar's spirit had somehow passed on to Bailey. It sounds eerie, but it all is so ironic. Well, it is a bittersweet weekend, since we celebrated Bailey's first birthday on Saturday. Sugar's picture is in the photo album: Sugar Lamborghini Robbins. I miss her kisses and still mourn for her.
Linda R.
If you are having trouble dealing with the loss of your Maltese or any other pet please visit the following Internet sites: www.petloss.com or www.bestfriends.com. There are several support groups who can help in dealing with this loss.



MALTESE ONLY
CHATROOM SCHEDULE

This has been a short month and I have not had time to schedule the March Chatroom Schedule. I will announce Special Chats on the MalteseOnly Discussion Forum.

The MalteseOnly Chatroom is hosted every night, Saturday through Thursday from 8:00 p.m. until 10:00 p.m. EST (No Fridays, yes Jay gives me a night off!)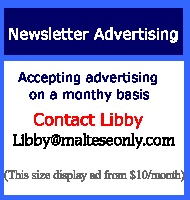 BUSTER'S PRODUCT OF THE MONTH
BOODA VELVETS
Bone-Hard corn-based chews that last. Prevent boredom, separation anxiety, and chewing of inappropriate objects with flavorful bone-hard chew toys. These healthy, corn-based bones provide hours of chewing enjoyment and are entirely free of animal by-products and preservatives. Great for your dog's teeth and gums, they have a high resistance to cracking and splintering and are available in all sizes. Available in all Dog supplies catalogs and Petstores.
Buster's Note: I love when mommie gives me these, but being the shredder I am, it is gone within several hours! Ha!


Lament of A Lady
Who's Gone To the Dogs
Submitted by Kathy Merchant

There was a time, there really was,
When I was sweet and tender,
when SHOW DOG meant a Disney Star,
And Bitch was not a gender.


I went to bed at half past ten,
I went to church on Sunday.
On Saturday I baked the beans,
And did the wash on Monday.


But then I got a certain pup,
And an erstwhile friend said, "SHOW"
And so I did and so I do,
OH! What I didn't know.


I used to dress with flair and style,
That was the life, don't knock it.
But now each dress from bed to ball
Must have a good bait pocket.


I used to have a certain air,
I wallowed in perfume,
I used to smell of Nuit D"Amour
Now I smell like Mr. Groom.


My furniture was haut decor,
My pets a tank of guppies,
Now I've furniture unstuffed,
And well-adjusted puppies.


Once I spoke in pristine prose,
In dulcet tones and frail,
But now I'm using language,
That would turn a sailor pale


I was taught to be well-groomed
No matter where I went.
Now all the grooming that I do
Is in the handler's tent.


I used to long for clothes and jewels,
And a figure classed as super,
Now the thing I yearn for most
Is a nice new Pooper-Scooper.


I adored a man who murmured verse
Through intimate little dinners,
But now the words I thrill to hear
Are just three-"Best of Winners"


I rise at dawn and pack the car
The road ahead's a long one.
The one I routed on the maps
Invaribly's the wrong one.


I really love this doggy life
I wouldn't care to change it.
But when I get that BEST IN SHOW
I plan to rearrange it.


When my time on earth is done
I'll go without much nudging
Just give me three weeks closing date'
And let me know who's judging.

Author unknown
A FAITHFUL DOG
Submitted by DebbieB

A Faithful Dog Will Play With You
And Laugh With You -Or Cry-
He'll Gladly Starve To Stay With You
Nor Ever Reason Why,
And When You're Feeling Out Of Sorts
Somehow He'll Understand
He'll Watch You With His Shining Eyes
And Try To Lick Your Hand.
His Blind, Implicit Faith In You
Is Matched By His Great Love -
The Kind That All Of Us Should Have
In The Master, Up Above.
When Everything Is Said And Done
I Guess This Isn't Odd
For When You Spell "Dog" Backwards
You Get The Name Of God.
Author unknown
Poem
Submitted by DebbieB

An exciting thought popped into my head today,
While I sat watching two young puppies at play.
How much we could learn if we only would look
At these creatures who have never read a book.
Jealousy, hatred, gossip and greed
Are rarely found in dogs, no matter the breed.
What do they know that we do not?
Obviously, though they're not telling, quite a lot.
Of course, two pups may squabble over a bone.
But soon you will find it left all alone,
While the former combatants snuggle close, sound asleep.
Secure in the knowledge that their treasure will keep.
Warmth and closeness mean so much more to them,
Even though the battle will probably begin again.
It is more playful than serious, this game of tug
And will end again with them both asleep, close on the rug
When two humans decide they want the same thing,
Whatever the object, they both will cling Grimly determined that each is right,
No matter how long, they continue to fight.
Let's look at those puppies, asleep at our feet.
Has either lost that treasure he tried so hard to keep?
Not really, as it lays just a few feet away
Not a treasure trove, just an object of play.
And the two little creatures? Are they content?
Completely and totally because their little souls are bent
Upon keeping this friend who plays this game with them,
And is still willing to snuggle again and again.
If only we could learn the great lesson here
Things are not precious, friendships are dear.
What good will this thing do us, this precious bone,
If we find ourselves left completely alone?
The next time I find myself wanting to fight,
I'll remember those puppies and, with all of my might,
I will try to give it up with a shrug
And hope to end up sound asleep, close on the rug.
Author unknown
Things Dogs Must Try To Remember....
Submitted by Buster's Daddie, Les

I will not play tug-of-war with Dad's underwear when he's on the toilet.

The garbage collector is NOT stealing our stuff.

I do not need to suddenly stand straight up when I'm lying under the coffee table.

I will not roll my toys behind the fridge.

I must shake the rainwater out of my fur BEFORE entering the house.

I will not eat the cats' food, before or after they eat it.

I will stop trying to find the few remaining pieces of clean carpet in the house when I am about to throw up.

I will not throw up in the car.

I will not roll on dead seagulls, fish, crabs, etc.

I will not lick my human's face after eating animal poop.

"Kitty box crunchies" are not food.

I will not eat any more socks and then redeposit them in the backyard after processing.

The diaper pail is not a cookie jar.

I will not wake Mommy up by sticking my cold, wet nose up her bottom end.

I will not chew my human's toothbrush and not tell them.

I will not chew crayons or pens, especially not the red ones, or my people will think I am hemorrhaging.

When in the car, I will not insist on having the window rolled down when it's raining outside.

We do not have a doorbell. I will not bark each time I hear one on TV.

I will not steal my Mom's underwear and dance all over the back yard with it.

The sofa is not a face towel. Neither are Mom & Dad's laps.

My head does not belong in the refrigerator.

I will not bite the officer's hand when he reaches in for Mom's driver's license and car registration.
THE DIFFERENCE BETWEEN DOGS AND CATS
Submitted by GailZ

A dog thinks: Hey, these people I live with feed me, love me, provide me with a nice warm, dry house, pet me, and take good care of me... They must be gods! A cat thinks: Hey, these people I live with feed me, love me, provide me with a nice warm, dry house, pet me, and take good care of me... I must be a god!

Thoughts to live by...

THE 10 CANINE COMMANDMENTS
Submitted by Mary Palmer

1. My life is likely to last ten to fifteen years. Any separation from you will be painful for me. Remember that when you buy me.

2. Give me time to understand what you want of me.

3. Place your trust in me-it's crucial for my well-being.

4. Don't be angry at me for long, and don't lock me up as punishment. You have your work, your entertainment and your friends. I have only you.

5. Talk to me sometimes. even if I don't understand your words, I understand your voice.

6. Be aware of however you treat me, I'll never forget it.

7. Remember before you hit me that I have teeth that could easily crush the bones in your hands, but I CHOOSE not to bite you.

8. Before you scold me for being uncooperative, obstinate, or lazy, ask yourself if something might be bothering me. Perhaps I'm not getting the right food, or I've been out in the sun or in the cold too long, or my heart is getting old and weak.

9. Take care of me when I get old. You too, will grow old.

0. Go with me on difficult journeys. Never say: "I can't bear to watch it", "let it happen in my absence" or "I am tired of you". Everything is easier for me if you are there.

*****REMEMBER, I LOVE YOU*****
DOG BREEDS THAT DIDN'T MAKE IT
Submitted by DebbieB

Collie + Lhasa Apso
Collapso, a dog that folds up for easy transport


Spitz + Chow Chow
Spitz-Chow, a dog that throws up a lot


Bloodhound + Borzoi
Bloody Bore, a dog that's not much fun


Pointer + Setter
Poinsetter, a traditional Christmas pet


Kerry Blue Terrier + Skye Terrier
Blue Skye, a dog for visionaries


Great Pyrenees + Dachshund
Pyradachs, a puzzling breed


Pekingnese + Lhasa Apso
Peekasso, an abstract dog


Irish Water Spaniel + English Springer Spaniel
Irish Springer, a dog fresh and clean as a whistle


Labrador Retriever + Curly Coated Retriever
Lab Coat Retriever, the choice of research scientists


Newfoundland + Basset Hound
Newfound Asset Hound, a dog for financial advisors


Terrier + Bulldog
Terribull, a dog that makes awful mistakes


Bloodhound + Labrador
Blabador, a dog that barks incessantly

Malamute + Pointer
Moot Point, owned by....oh, well, it doesn't matter anyway


Collie + Malamute
Commute, a dog that travels to work


Deerhound + Terrier
Derriere, a dog that's true to the end

PET PERCH CAR SAFETY SEAT
http://www.malteseonly.com/petperch.html

The Pet Perch retails elsewhere for $39.95, your cost through this Special Offer will be only $24.95 + $7.25 shipping & handling with $5.00 going to The National Maltese Rescue Fund. This special offer available only through the MalteseOnly Website. To get yours, simply mail a check or money order for $24.95 plus $7.25 for shipping and handling for a total of $32.20 (anywhere in the continental US), Florida residents add applicable sales tax to:

Jay Bianco
PO Box 383
Mt. Morris, Pa. 15349

Please allow 1-2 weeks for delivery via UPS

* 1-800-548-2423 *

The National Animal Poison Control Center has a 24-hour toll-free number to assist with poisoning problems --

BIANCO'S BACI MI BAMBINA'S (BAMBI) "PUP-POURRI" OF DOG TRIVIA

Taken from the Book What Do Dogs Dream About?
By Tom Kuncl

It may not sound like it to you, but the official description of the baying of a pack of fox or coon hounds in pursuit of their quarry is "music" according to those who follow those sports. Dogs that won't stop baying even when the hunt is over are called "babblers".

A dog by any other name may still be the same dog. For example, while the Germans gave the name dachshund to the incredibly short-legged creature they admired for his keen scenting abilities and eagerness to hunt crop-damaging badgers, the French call the same animal a basset (not to be confused with the basset hound we know here). The Swiss have given it the jaw-breaking name niederlaufhund.

Are dogs living longer? Ironically, because we take such good care of our pets - getting them to the veterinarian more often and treating them with effective antibiotics for a host of ailments that once shortened their lives - our dogs are living much longer. As a result, they are suffering from many of the diseases of advancing years that also affect humans.



Submitted by Cindy Shaffer

A man walked into the office of the eminent psychiatrist Dr. Von Bernuth, and sat down to explain his problem. "Doctor, doctor!" he started. "No need to repeat yourself, my good man," replied the doctor. "One doctor is enough." "Yes, well, you see, I've got this problem," the man continued. "I keep hallucinating that I'm a dog. A large, white, hairy Pyrenees Mountain dog. It's crazy. I don't know what to do!" "A common canine complex," said the doctor soothingly. "Come over here and lie down on the couch." "Oh no, Doctor. I'm not allowed up on the furniture."

Submitted by Roty2000<BR> A man runs into the vet's office carrying his dog, screaming for help. The vet rushes him back to an examination room and has him put his dog down on the examination table. The vet examines the still, limp body and after a few moments, tells the man that his dog, regrettably, is dead. The man, clearly agitated and not willing to accept this, demands a second opinion. The vet goes into the back room and comes out with a cat and puts the cat down next to the dog's body. The cat sniffs the body, walks from head to tail, poking and sniffing the dog's body and finally looks at the vet and meows. The vet looks at the man and says, "I'm sorry, but the cat thinks that your dog is dead, too." The man is still unwilling to accept that his dog is dead. So the vet brings in a black lab, the lab sniffs the body, walks from head to tail, and finally looks at the vet and barks. The vet looks at the man and says, "I'm sorry, but the lab thinks your dog is dead too." The man, finally resigned to the diagnosis, thanks the vet and asks how much he owes. The vet answers, "$650." "$650 to tell me my dog is dead?!" exclaims the man. "Well," the vet replies, "I would only have charged you $50 for my initial diagnosis. The additional $600 was for the cat scan and lab tests."

Submitted by KathyS
Q: Why are dogs such bad dancers?
A: Because they have two left feet.

Old man Pip was walking through the park, his brown spaniel on a leash, when elderly widow Haversham shuffled over. "Aren't you Pip Dickens?" "Yes" "Good Lord! Pip, it's me your old neighbor Lil Haversham!" "lil! It's good to see you after all these years!" " My, and how your dog has grown! Snowy used to be so small, with long white fur and a cute black nose." "Lil, that was 20 years ago. This is Stormy." "gracious," said Lil, "you even changed its name!"

"SMILES FROM OUR WHITE FURBABIES"

Question : What is the most important thing in life your Maltese gives to you?
Answer: Unconditional love, companionship and support.

Submitted by Halen Foster
I never wanted to own a dog. Our family had two dogs--one was hit by a car and the other was so insignificant I don't remember when it came or left. My interaction with either of these dogs was minimal; they belonged to my brothers. They were outdoor dogs. The den was under the porch, filled with straw and had a flap for the door. They ate table scraps. When we went fishing, they jumped out of the boat and swam to shore, got woodticks in their eyes, and smelled like dogs! Their names were Prince and Queenie, but weren't very royal. I don't even think we have any pictures of them. Then two years ago I got a dog, a little white Maltese dog. I named him after me, Halen's Comet! He was all white and fuzzy and had a tail, just like the comet in the sky. All or a sudden, I became a dog person! I have three baby gates, a wooden one, a wide mesh one, and a walk-through one to confine him in various spaces. Comet has a deluxe stroller, and a Pack and Play playpen. I find myself looking for things to buy Comet. He has a wardrobe of sweaters, jackets, collars, bowties for all occasions, and 14 mats to lie upon. He eats premium food and only healthy snacks. I have more pictures of Comet than my own children! The vet staff knows my voice and dogs name without asking! Comet is groomed every three weeks in our home. I am addicted to MalteseOnly.com and wear a shirt proclaiming my addiction. I became a dog lover when I became a dog owner.

A special thanks goes out to the Sponsors of MalteseOnly:

Woof Online Auctions

http://www.malteseonly.com/auction

Note: If you wish to submit an article, poem, joke, birthday, etc. for MalteseOnly News please send an email to: Libby@malteseonly.com All submissions must be to me by the 25th of the month.
Thanks to the many people who have made the Maltese Only Website and Newsletter such a success. A special thanks go out to our Sponsors.
---
As quoted by Dr. Jane Leon, from America's Health Network, "Be good to your pets, they try so hard to be good to you and for you"
---


Get a free MalteseOnly email address
TO SUBSCRIBE
OR UNSUBSCRIBE
To unsubscribe from the MalteseOnly Newsletter, simply go to http://www.malteseonly.com/subscribe.html then enter your email address and check "unsubscribe" or subscribe and submit.
---
Maltese Only Newsletter
© 1999 All Rights Reserved

Tell a friend about our Newsletter
March 1999
Maltese Only News




Editor's Note:
Welcome to MalteseOnly News! MalteseOnly went online in May of 1996. Created by Jay and Bev Bianco of Mt. Morris, PA. Today over 2,000 visitors daily find themselves at this website.
The Maltese Only site provides a multitude of information on the health, care and training of a Maltese. The Discussion Forum is the #1 Dog Discussion on the Internet.
Maltese Only has the most dedicated fans on the Internet. This Maltese Only News is dedicated to them.
To unsubscribe from the MalteseOnly Newsletter, simply go to http://www.malteseonly.com/subscribe.html then enter your email address and check "unsubscribe" and submit. You will be removed immediately from any future mailings and announcements.
Libby Johnson, Editor
Libby@MalteseOnly.com
Jay Bianco,Co-Editor
M ALTESE RESCUE
Jay and Bev Bianco - (724) 324-9401
Mt. Morris, PA

Interested individuals may now subscribe to the new National Maltese Rescue email list of announcements. To subscribe or unsubscribe, point your browser to:
http://www.malteseonly.com/rescues.html
*DEDICATED TO PEOPLE IN RESCUE*

For Sale to A Good Home
I was born in the Summer a few years ago.
Quite why I was born, I'll never know.
Some folk who owned my mother, decided to breed.
No reason I know of except for their greed;
I know I was hungry, I know I was cold;
They sold me quite early at just five weeks old.
My number one owners seemed friendly at first,
And life was quite good till my bubble burst;
They started to argue, their marriage split up;
And in the AD: "For Sale - 4 months old pup".
Some folk arrived, the next ones in line.
They treated me kind and life was just fine.
But Master dropped dead, and she couldn't cope.
So she sold me again (I'll soon give up hope).
I now had a new home right up in the sky;
We went up in the lift fourteen floors high!
The new folk were kind but they left me all day;
I was bursting to wee and had nowhere to play.
It was boredom, I think, when I chewed up the chair;
They agreed I should go, as it just wasn't fair.
The next home was good and I thought, "this is it"!
They started to show and I won.... well, a bit.
Then somebody told them that I had no bone.
And in went the AD: "For Sale...to a good home".
The next lot were dreadful, they wanted a guard;
But I didn't know how, although I tried hard.
One night they got burgled and I didn't bark;
Tied up in that shed and alone in the dark.
For four months I lay in that cold and dark shed;
With only an old paper sack for a bed.
A small dish of water all slimy and green;
The state I was in, well, it had to be seen!
I longed for destruction, and an end to the pain;
But some new people came and I went off again.
Well now I'm with Rescue and this home is good;
There's walks in the country and lots of good food;
There's kisses and cuddles to great me each day;
But I dread the time they will send me away.
But for now here I stand, skin and bone on all four;
PLEASE......don't let "ME" happen to any of yours!
Author Unknown

SPECIAL RESCUE STORY - Sparky's Story
The National Maltese Rescue was contacted on Feb. 3, 1999 by a Shelter in Rockford, IL saying that they had a 14 yr. old Maltese named Sparky that was dropped off. Since this was NOT a No-Kill Shelter we immediately went into action and thanx to Mary Palmer, was able to get him out within 2 days. Mary took him into her home and gave this little guy the love and care he so richly deserves. She cleaned him up and got him to the vet. The vet gave him a thorough physical and said he was in good health with the exception of having very bad teeth. That's where Cindy Shaffer and Kashi came in and so generously paid for his teeth cleaning and the pulling of the ones that could not be saved. Cindy wanted to help this little guy since she couldn't adopt him. Mary was able to bring Sparky out of his shell of being so afraid to a loving, lively little boy. Sparky, who has been renamed Bacci Roberto, now has a new home in Somerville, MA with Christine Gizzonio who loves him very much and will see that his remaining years will be with much love and care. We at National Maltese Rescue want to thank Mary Palmer, Cindy Shaffer for their help and love for this little guy. Its people like you that make rescue a success!
Jay, Bev & Libby
"Sparky" Bacci Roberto

QUOTES
Submitted by Cindy Shaffers Mom
"WHERE THERE IS GREAT LOVE THERE ARE ALWAYS MIRACLES," --Willa Cather
Submitted by Cathy Brown
"There is no psychiatrist in the world like a puppy licking your face." -Ben Williams
Submitted by Paula & John Crawford
"Don't accept your dog's admiration as conclusive evidence that your are wonderful." -Ann Landers

WESTMINSTER DOG SHOW
The Nation's No. 1 Dog Show
The Westminster Kennel Club Dog Show was held Monday, Feb. 8, 1999 thru Wednesday, Feb. 10, 1999.Missed it???? Well don't worry, we were watching for you. Here are the results of this year's show:
GroupWorking - Ch Mentmore's Windy Meadow (Bernese Mountain Dog)
Terrier - Ch Sunspryte's Just In Thyme (Welsh Terrier)
Toy - Ch Loteki Supernatural Being (Papillon)
Non-Sporting - Ch Lake Cove That's My Boy (Standard Poodle)
Sporting - Ch Bit O Gold Titan Treasure (Gordon Setter)
Hound - Ch Sundown Alabaster Treasure JC (Saluki)
Herding - Ch Windwalker's Yes Virginia (German Shepherd Dog)
Best in Show:Ch Loteki Supernatural Being (Papillon)
Congratulations to all the particiants!

MALTESE NATIONAL SPECIALTY
American Maltese Association Announces!--
1999 National Maltese Specialty Show -
New Orleans, LA
May 26-28, 1999
Show Chairman: Mr. Larry Stanberry

CAN DOGS TALK?
Taken from the book "What Do Dogs Dream About?" by Tom Kuncl

Of course. The "language" dogs speak to us can't be written, but it certainly can be understood, says Dr. Michael Fox, columnist and author. "An aggressive dog will stare at you squarely, snarl and wag a stiff tail. A fearful dog will go on to the defensive by shifting his body weight backward and lowering his tail. A dog that wants to show complete submission will curl up with ears flattened against his head and remain cowering or completely still on the ground," Dr. Fox says. Some dogs even express their personality by the way they carry their body, says Dr. Randy Lockwood, a behavior specialist for the American Humane Society. "You'll see some dogs who actually seem to be strutting, full of life and confidence with tails and ears erect. Then you'll see others who are kind of slinking around - with what you might call a hang-dog look. That's something they learn in their home environment. They are often pretty good mirrors of their master or mistress," Dr. Lockwood says. Dogs use their tails and ears to signal us - and other dogs - things that are on their minds. "Most people mistake all tail-wagging as friendly, but it's not. When the tail is high and wagging stiffly, a dog is telling you that he is making a judgment about you and the situation, and could be getting angry," Dr Lockwood says. "The tail low to the ground and rapid wagging is one of the signs by which they signal their friendly intentions," he adds.

WHAT IS MY DOG SAYING?
Taken from the book "What Do Dogs Dream About?" by Tom Kuncl

Dogs "talk" to us in many ways, and if we're willing to listen and learn, we can "talk" right back to them.

"Hi, I'm Glad To See You!" - This bark is high-pitched, repeated and followed with lots of tail-wagging and grinning. You probably already know this greeting. It's the one your dog uses when you come home from work.

"Will You Play With Me?" - When your dog wants to play, he/she will lower his two front paws, put his chest down to the ground, flatten his ears and lift his rear in the air. Dog behaviorists call this the "play bow." No one who sees it is able to resist it.

"Stay Away!" - A dog warns you of possible danger with a series of low-pitched, frenzied barks that should have you up and investigating immediately.

"I'm Scared!" - A scared dog crouches low to the floor, with his head down and ears flat. If he barks at all, it will be an odd sounding howl.

"Something's Wrong!" - This type of warning bark is usually accompanied by growling, raised hair on the neck and flattened ears.

"I'm Very Sad!" - We've all heard the expression "puppy dog eyes." There's nothing more heartwrenching than the site of those downcast eyes and drooping ears that a dog demonstrates when he/she is not happy. If your dog is feeling especially unhappy, he may howl. This dog needs attention and a BIG HUG!

"I Love You!" - This is the type of "dog-talk" all dog lovers live for. You know its puppy love when you're greeted with lots of face-licking and tail-wagging. Wolves in packs use face-licking as a sign of affection and trust. When your dog drags his tongue across your face, take it as a compliment and consider yourself one lucky person!

SEPARATION ANXIETY
by Canine Behaviorist, Jill Connor
Separation Anxiety is extremely common in adult, re-homed dogs. Adult re-homed dogs (over the age of 6 months) almost always develop this syndrome. Pooping/peeing, and destructive behaviors are both signals of separation anxiety, as are excessive barking and destruction of windows/doors (barrier frustration), and the destruction of property (furniture, rugs, fences, the siding of your home, etc.). However, the good news is that Separation Anxiety can be treated. Below, I have described a treatment I have used effectively with many clients.
Crating

If your dog is not alone for too long a time each day, you can crate train. As the dog begins to relax in its new surroundings, the separation problem should self-extinguish, and the crate will no longer be necessary. However, NEVER crate a dog for more than four hours at a time (except overnight).
Time Out

The treatment of Separation Anxiety basically involves creating emotional independence in the dog by conditioning a "time out" article. Simply place the chosen article in full view of the dog every day for one hour and call a "time out", during which you actively ignore the dog. When you remove the article, reward the dog with praise and play. Make your dog earn everything, including pats, entering/leaving the home, etc. You will be promoting yourself psychologically, which will help her to feel calmer. Purchase Turid Rugaas' book on Calming Signals, and use them before leaving the house. Change your departure rituals so you do not inadvertently "cue" your dog. Leave a radio playing and a light on when you are not home, and if possible move your answering machine (at full volume) into the room with the dog and leave your dog "messages" during the day.
Creating A "Safe Space"

Confining the dog to a smaller space (not allowing him/her to roam the house freely, which places an excessive emotional burden to protect upon the dog) also helps. This space can be a kitchen area, where the dog is offered treats (sliced apples, carrots, celery, hooves with peanut butter, etc.) that s/he receives nowhere else, and only upon your leavetaking. You can even create a "Goody Bag" by placing these articles inside a brown lunch bag (available in bulk at most supermarkets, very inexpensive). Let the dog get busy opening his/her bag every morning when you leave, and then enjoying its contents. Jill Connor, Ph.D.

SIGNS YOU ARE A MALTESE DOG PERSON
Cont'd from January/February '99
12. Your dog is getting old and arthritic, so you go buy lumber and build him/her a small staircase so he/she can climb onto the bed by his/herself.
13. Your license plate or license plate frame mentions your Maltese
14. You match your furniture/carpet/clothes to your Maltese
15. You have your Maltese's picture on your office desk (but no one else's)
16. You lecture people on responsible dog ownership every chance you get.
17. You hang around the dog section of your local bookstore.
18. You skip breakfast so you can walk your Maltese in the morning before work.
19. You are the only idiot walking in the pouring rain because your Maltese needs his/her walk
20. You don't go to happy hours with co-workers any more because you need to go home and see your Maltese
21. Your parents refer to your Maltese as their granddog
22. Your weekend activities are planned around taking your Maltese for a hike (both days)
23. You keep an extra water dish in your second-floor bedroom, in case your Maltese gets thirsty at nite (after all, his/her other dish is way down on the first floor)
24. Your freezer contains more dog bones than anything else
25. You never completely finish a piece of steak or chicken (so your Maltese gets a taste too)
26. You shovel a zigzag- path in the back yard snow so your Maltese can reach all his/her favorite spots.
27. You avoid vacuuming the house as long as possible because your Maltese is afraid of the vacuum cleaner.
28. You keep eating even after finding a dog hair in your pasta.
29. You make popcorn just to play catch with your Maltese
30. You carry pictures of your Maltese in your wallet instead of pictures of your parents, siblings, significant other, or anyone else remotely human
31. And the number one reason your know you're a Maltese Dog person: Your Maltese is the Star of your World Wide Web Site!
Author Unknown
---

Frequently Asked Questions
about Maltese Dogs - Tear, eye & face stain
by Jay Bianco 1998© All Rights Reserved
One of the most common concerns of Maltese owners is eye, tear and face stain. Here are some of the most frequently asked questions along with answers, suggestions and opinion after doing quite a bit of research on the subject. I hope you find them helpful.
---

Is tearstaining common with the Maltese breed?


In a recent survey we conducted 93% of the 600 Maltese owners reported that they did have a tearstaining problem with their Maltese.

Could the water my Maltese drinks have anything to do with staining?


Yes. High mineral content in your water could cause almost the entire face to stain. One suggestion would be to train your Maltese to drink from a water bottle which will help keep the face dry. Another solution would be to purchase purified bottled water.

My Maltese had an ear infection last week and it seemed like the tearstaining had gotten worse when this problem started. Is this possible?


I believe an ear infection could cause excessive tearing and staining. Your vet would more than likely prescribe a product called Otomax to help eliminate the ear infection. Its important to find out how the infection started in the first place. You should be very careful after you bathe your Maltese to be sure its ears are dried thoroughly. Also, any hairs inside the ears should also be removed. This is something you can do yourself quite easily. Have your vet show you how once if you're unsure.

What would cause a deep reddish-brown stain below my Maltese eyes?


A yeast infection could. One of the most common being Red Yeast or Ptyrosporin. You may want to get an opinion from a veterinarian as to whether your Maltese might have clogged tear ducts. There are methods to irrigate or surgically open them.

When my puppy starts to cut its adult teeth, will this cause his face to stain?


I think it sometimes does. I have talked to people that had no prior problem with tearstain until the puppy was about 5 months of age. This is usually when a Maltese will start to cut their adult teeth. There really isn't much you can do other than to keep the facial hair of your Maltese as dry as possible during this time. After the teeth are in, the problem should subside.

Could the food I'm feeding my Maltese have anything to do with her tearstaining?


I think it does. Don't ever feed any food that has color added. Better quality foods such as Iams, Eukanuba, Innova and Sensible Choice, just to name a few, usually don't have color added. Also, be sure to check your treats (biscuits & cookies) have no added color. Find ones that are white or pale colored. Biscuits made by Iams would be one good choice.

I heard that Tetracycline works wonders for eyestain problems. True?


Some people have found this antibiotic to be quite helpful and claim that there was a definite improvement. The bad news is that Tetracycline can cause seriously upset stomachs and has to be eliminated through the kidneys. Tetracycline will also cause the teeth to stain. I personally would never use it even as a last resort for a tearstain problem. If you find yourself in wanting to give it a try, then you should only use it very short term and only after consulting with your veterinarian first.

I don't want to have my Maltese drink from a water bottle. Could certain bowls cause staining?


Yes, some plastic bowls will cause discoloring of the face. A stainless steel bowl is best. Stainless steel is bacteriostatic, it doesn't chip or crack and is easy to keep clean.

I was told that giving my Maltese a half-a-Tum a day will help in controlling tearstain. Does it really work?


The main ingredient in a Tum is calcium. An argument that Tums could help is that it will change the pH of the tears. We personally tried Tums on two of our Maltese for a six month period by giving them a-half-a-Tum-a-day. We saw no improvement whatsover. You could try it but don't expect a miracle.

The stain around my Maltese eyes started looking real bad so I just cut off the redish-brown ones and he looks great now.


That great look is only very temporary. In a day or two, those short hairs will begin to stain and you will be back to square one, except nothing to trim this time. Cutting off the discolored hair is not a good solution. I would recommend keeping the long hair out of the eyes by proper grooming and a topknot. This will help as the long hairs will have less chance of irritating the eyes and causing them to tear.

I use Collyrium in my eyes as I wear contacts and I find it soothing. Could this help my Maltese with her eyestain?


I have never tried it but have heard that some people have had some excellent results with it in controlling eyestain. Collyrium is a very mild, soothing eye wash that has some boric acid and buffers in it. It is available through most drug stores and doesn't require a prescription.

Is there a genetic predisposition toward tear staining?


Common sense would tell you that the actual structure around the eye area would play a significant role in excessive tearing. It is my opinion there is a genetic predisposition toward tear staining.

Do products such as "Diamond Eye" or "Pretty Eyes" work well for eliminating eyestain?


I have not heard real good reports on either of these two products or several others like them. They are inexpensive enough though to give them a try. They can't work if you don't try them. Once again, don't expect any miracles for a crispy clean white face if your problem is any more than minimal.

Would you recommend any type of bleaching to remove face and tear stains?


No, not for most people. If your mind is made up and bleaching is what you want to do, first talk to someone you can trust and is experienced with all aspects, preparation and risks prior to attempting it yourself.

Do you know of anything I might try for tearstain. I'm getting desperate?


One method (without bleaching) you might want to try would be to mix concentrated Magic Touch #1 and hydrogen peroxide (2% or 3% from the pharmacy--not the beauty shop variety) equal parts. Only mix enough for a week at a time so the peroxide doesn't lose its potency.(mix 1/8 cup Magic Touch, 1/8 cup peroxide). Apply it once or twice a day to the stained area with a cotton ball after combing out the hair. Using the Magic Touch concentrate helps prevent the hair from drying out too much from the peroxide. And as an added benefit, it might only takes a couple of weeks to clean it up completely. Magic Touch is a Crown Royale product and the toll-free number is 1-800-992-5400.
---

Near a misty stream in Ireland in the hollow tree; Live mystical, magical leprechauns who are clever as can be. With their pointed ears, and turnedup toes and little coats of green; The leprechauns busily make their shoes and try not to be seen. Only those who really believe have seen these little elves; And if we are all believers; we can surely see for ourselves.
---

Hallmark dying greyhound ``joke'' offends dog lovers
By Jim Loney
Dog lovers did not see the humour in a joke about dying greyhounds posted on the normally warm and fuzzy Hallmark Cards Web site.
Now some angry protectors of man's best friend are threatening to boycott the greeting card firm.
``It's bad taste or stupidity, I don't know. It's appalling,'' said Helen Banks, founder of Second Chance for Greyhounds, a Bonita Springs, Florida-based group that finds homes for greyhounds after their racing days are over.
At issue is the Jan. 21 ``joke of the day'' on Hallmark's Shoebox Greetings Web site: ``One hundred greyhounds at a St. Petersburg, Florida dog track were sick last week with a highly contagious kennel cough. To bet on which ones will die, call 1-800-555-BARK. Good luck.''
The joke was an apparent reference to the recent deaths of six dogs at Derby Lane in St. Petersburg and two others at the Daytona Beach, Florida track.
Although the cause of those deaths has not been determined, a severe outbreak of kennel cough forced the closing of several Florida dog tracks last month and caused most U.S. dog racing operations to impose quarantines to prevent the disease from spreading.
``Anybody who would make light of animals dying ... I think it's totally tasteless,'' said Dr. Jim Bader, a Holland, Michigan veterinarian who helps find homes for greyhounds.
A Hallmark Cards Inc. spokeswoman called the joke ``a mistake.''
``It wasn't funny,'' said spokeswoman Julie O'Dell. ``We've revisited our processes internally to make sure that type of thing doesn't happen in the future.''
O'Dell said the company would apologise to each person who called or e-mailed a complaint, and contact those who threatened to boycott Hallmark products.
---

EDITOR/CO-EDITOR'S NOTE:
HAPPY ST. PATRICKS DAY! FROM JAY,BEV, LIBBY & BUSTER


---