Maltese Only News
January 2000

Editor's Note:
Welcome to MalteseOnly News! MalteseOnly went online in May of 1996. Created by Jay and Bev Bianco of Mt. Morris, PA. Today several thousand visitors daily find themselves at this website.
The Maltese Only site provides a multitude of information on the health, care and training of a Maltese. The Discussion Forum is the #1 breed specific discussion on the Internet.
Maltese Only has the most dedicated fans on the Internet. This Maltese Only News is dedicated to them.
To unsubscribe from the MalteseOnly Newsletter, simply go to http://www.malteseonly.com/subscribe.html then enter your email address and check "unsubscribe" and submit. You will be removed immediately from any future mailings and announcements.
Libby Johnson, Editor
Libby@MalteseOnly.com
Jay Bianco,Co-Editor
M ALTESE RESCUE
Jay and Bev Bianco
Mt. Morris, PA

Interested individuals may now subscribe to the National Maltese Rescue, Inc. email list of announcements. To subscribe or unsubscribe, point your browser to:
http://www.malteseonly.com/rescues.html
****DEDICATED TO PEOPLE IN RESCUE****

SPECIAL RESCUE STORY
Submitted by Libby
WALDO is a 9 year old male Maltese who was turned over to NMR, Inc on September 3, 1999. We originally got a fax from his owners saying that Waldo had gone thru a series of traumas, starting with his sister being run over (several years ago), then the other dog in the family died of old age, and the last straw was his two cousin dogs, who lived next door, moved away. The owners said Waldo tried at every chance to run away and had lost his housebroken training. They talked to dog psychologists, and their advice to the owners was not valuable. Then the bottom line came when they said that they are moving to a new house at the end of the month and they could not envision taking Waldo with them. Waldo was adopted by a wonderful lady, Barb who said that he is great. Her Max (a Maltese) and Murphy (cat) love him. No problems at all. Thanx so much to Barb for giving Waldo the forever home he deserves.
BEAU is a 4 year old Maltese who basically lived in a cage all his life. He did not have much human contact. He was used as a stud dog in a puppymill. The lady that got Beau from the puppymill had wanted to use him for the same purposes, which we were told she did and then she did not want him. She had placed him with 2 families but he ran away each time. Mary Harrigan of National Maltese Rescue Inc., so graciously picked him up and fostered while we looked for the right family. Mary made the appointment and got him neutered and up to date on all his shots. Mary worked with him for hours brushing and combing out his coat. He was a mass of mats. It took time but Beau soon learned to trust Mary. After much interviewing and trying to find the right home for Beau along came Joe and Diane who absolutely fell in love with him. Beau now has his forever home and is getting much love and a lot of spoiling. Another successful placement by National Maltese Rescue.
* * * * * *


BUDDY'S GOSSIP COLUMN
(Bianco's That's My Buddy)

Note: When Libby asked me to do this gossip column I had to laugh. Ha! Me? Do a gossip column??!! My mommie (Bev) and my daddy (Jay) say that I am perfect for the job. Can't keep any secrets. So here goes. Daddy gave me my own email address so if you have any gossip worth printing please email me at: Buddy@malteseonly.com.
Now for the gossip!

Well...I have it on good authority that Buster Johnson has a girlfriend. He got pictures from Laurel's Crissy. Crissy is looking at Busters picture on the PC and saying "Hey Mom! I like him! What a fox!" Can this be Internet love?

BettyS's Lacee stole Daddy's wallet and took all of the cards and papers out. She only chewed off the corner of a dollar bill. Guess she didn't like the taste of money.

Alex Braye wrote me and said: "I have to tell ya, I am having a terrific time. My grandma is here and she lets me sit on her lap all the time. When we are not sitting in the recliner, she carries me around in her arms. Sometimes she gets tired of holding me but then I go pull her on her skirt and tell her to play with me. Of course she doesn't want to all the time. One day I found her sweater and slept on it and because I was bored bit off all the buttons. I tell ya, mommy was not happy. Grandma did not say anything. I will miss her a lot when she leaves. In the meantime I give her lots of kisses."

January 3rd is a special day for Cotton Styers. His mommy, Georgiann, told him that he is now15 years old. Cotton thinks that is pretty old, but he still feels like a puppy sometimes--especially when he fights with Nike to get through the door first and to get the first treat out of the box:-) Cottons mommy baked him a doggie cake and also some bones. Grandma said that mommy should wrap up my heart medication and make that my present. GRRR, Cotton said that they better not. That stuff tastes pretty bad! Cotton, believe me ...they wouldn't do that. If they do let your pal Buddy know and I'll make it known in my column! Happy Birthday Cotton.

Journey is in trouble with his daddy. Seems the neighbors cat is pooping in Journeys yard and Journey is taking it upon himself to "clean it up"..Yuck-e-poo! Don't worry Journey...if that's the worst trouble you get into then life is a piece of cake!

Looks like little Boris will be going on vacation with mommie Vita. He gets to go to the Carribean! Wow Boris! Mommie and daddy don't take me to fancy places like that. You will have to write and let me know how the trip goes.
That's it for the gossip for this month. Stay tuned. I'll be watching and listening for more. Until next month...keep your head out the window and your tail to the sky. Happy New Year everyone!


Buddy



QUOTES

"Rambunctious, rumbustious, delinquent dogs become angelic when sitting" Dr. Ian Dunbar
"I care not for a man's religion who's dog and cat are not the better for it" Abraham Lincoln
"Any man who does not like dogs and want them about does not deserve to be in the White House." Calvin Coolidge

WESTMINSTER KENNEL CLUB DOG SHOW
Year 2000 Westminster Kennel Club Dog Show will have TV coverage February 14 and 15. It will air live 8-11 pm (EST). The first night will include the Working, Terrier, TOY, and Non-Sporting groups; the second will feature the Sporting, Hound and Herding groups and Best in Show competition. USA Network will tape delay the broadcast outside the Eastern time zone.



MALTESEONLY YEAR IN REVIEW
By Libby & Buster
Welcome to the millennium issue of MalteseOnly News!
Year 2000 finds many changes that has happened over the past year. MalteseOnly Newsletter started in July 1998 with only a handful of subscribers and was emailed out to everyone. Now with over 4,100 subscribers, Jay Bianco has perfected the newsletter and put it on the web with beautiful color and graphics. Great job Jay!
The MalteseOnly Website has also grown once again to over 3,000 unique visitors daily. Remarkable! The Discussion Forum has changed to a Mega Forum with eight distinct forums under one roof making it bigger, better and more helpful and user friendly. Lots of new articles and points of interest have been added to the directory on the main page. A special Petloss & Tribute page was added and is maintained by Robin McDonald. Also added is the "Surgery Room" which shows the actual procedure for spay/neuter.
A new Chatroom was put up with lots of fancy buttons and pictures for all to enjoy. This chatroom is hosted by myself and monitored as to not have anyone come in causing problems making it a safe and secure place to come discuss your furkid with others like yourselves.
National Maltese Rescue become Incorporated; changing the name to National Maltese Rescue, Inc. With Jay Bianco as President and Libby Johnson as Secretary. NMR will soon have an official "Not-for-Profit" status making your donations tax deductible. NMR, Inc. has had many successful placements for 1999. All of these furkids have warm, loving homes and a chance at a wonderful life.
A special feature added to the National Maltese Rescue, Inc. page is an "Online" button that shows when any NMR representative is online with Yahoo Pager. This makes us more accessible to questions that may come up with the rescue saving on phone bills. Great idea Jay!
And last but not least, Woof Online Auction is into its 3rd year specializing in Maltese dog related items for you to bid on.



VALENTINES TRIBUTES
Look for the 2nd annual Valentines Personals in the February issue of MalteseOnly News! If you have a special Valentines wish from your Maltese or to your Maltese please submit to me no later than January 29, 2000. Libby@malteseonly.com

BUSTER'S VERSION OF Y2K!
Submitted by Buster Johnson
I've heard a lot of talk about y2K9 and frankly I was getting a little worried. And I'll bet all you Maltese furkids out there have the same questions I did.
In my search, I found talk about y2K9 bugs ... but no one seemed to have a real answer to what these bugs were! I can only imagine -- super fleas and ticks! It seems humans have been studying y2K9 bugs for years but when they think they find one, they fix it. Now, I am all for spaying and neutering -- but fixing bugs? And how come these y2K9 bugs have been studied for years but were only going to be here for maybe a few short days -- starting January 1? Also I found that humans think they are susceptible to these bugs too. Now my human has shared many things with me -- from dinner, to bed, to the favorite spot on the couch, but I don't think I want to be sharing bugs. Even if they are special y2K9 spayed and neutered bugs.
Another part of the y2K9 thing that mystified me is the term y2K9 compliant. I *think* fellow canines; we are talking about obedience here. I am imagining compliance trials and compliance training schools. We all know how clicker training is changing dog and owner communication. I think we aren't going to have obedience titles anymore. We are going to become compliant Maltese dogs! Being a compliant Maltese dog sure makes it sound like the selective hearing that we all have from time to time will no longer be available to us canines as a way to train our humans.
I don't think I like this y2K9 thing very much at all.
In fact, I'm not even sure what they meant by the term. Or does y2K9 mean just what it says ... why two canines? Are they trying to limit households to one dog? What's that all about?
Additionally, I read that humans were planning big celebrations for y2K9 eve and that many humans have been working for years on y2K9 plans. How come it's just now that us canines are hearing about it? Certainly it will take us some time to "put on the dog!" How can we have a big Maltese Party if we don't know about it?
What about banking? I read there was gonna be banking problems at the change of the New Year. Does this mean no more biscuits at the drive through windows? Biscuits at the drive through is one of my great joys in life. But will y2K9 banking problems mean no more biscuits?
Gas shortages, if it would have happened, it would have cut into our "Let's go for a ride!" fun. How can humans possibly think that we Maltese would be content to sit at home all day, day after day with no rides!
People were stocking up in the event of shortages! Are we talking biscuit shortages and kibble in high demand? What about squeaky toys -- are they no longer going to squeak in y2K9?
Well fellow Maltese, I was worried! But, I think this was one for the humans to sort out. I just sat back and watched -- just as long as it didn't interfere with the ready flow of biscuits, rides, and toys I didn't care one bit.
Have big plans for a y2K9 celebration? Me? Nope, I just sat at home on the couch with my mommie watching all of the big Y2K celebrations and brought in the New Millennium safe and sound with not a care in the world. Happy New Year from Buster



BOOK REVIEW
by R.M.Peluso
We start with the best of intentions. Bring a new pup home, or provide refuge for a rescued pooch:love springs from our breasts. But who among us hasn't been perplex- ed or frustrated by the behaviors of our furry companions? You can spend the weekend lavishing affection on fido only to find, upon returning home Monday evening, your favorite sweater has been shredded. Perhaps, we receive surprising reports from our neighbors that our beloved pets have been barking all day. We aren't sure what to do when a dog refuses to walk more than two steps when taken out for exercise. Or maybe there's been a sudden change in behavior: an escalation of aggression; pacing and panting all night. Sometimes we aren't certain whether a problem is behavioral or medical. Wouldn't it be reassuring to know someone who could treat either type problem? Dr. Nicolas Dodman is a veterinarian, diagnostician and counselor who special- izes in behavioral pharmacology and runs the Tufts University Veterinary Center. His integrated approach combines diet, exercise, canine psychology and behavior, home environment and medical management. He has written two books on dogs: The Dog Who Loved Too Much and Dogs Behaving Badly. Writing with compassion for those creatures so close to our hearts, he emphasizes that dogs learn best through positive reinforcement: he clearly disdains harsh training methods, which rely on the discomfort or punishment of animals. Persons involved in animal rescue, will be heartened to read his condemnation of puppy mills. He lays the blame of disorders, such as separation anxiety, at the feet of those who run such reproductive farms- where pups are separated from their mothers at too young an age, then shipped to pet stores. Dr. Dodman laments the inadequate socialization and psychological damage suffered by the pups, deprived of their mothers, as well as the physical harm done by poor breeding. While there is much overlap in information presented in The Dog Who Loved Too Much and Dogs Behaving Badly, the books are stylistically different and there is additional information in the second book which make it worth a look. In The Dog Who Loved Too Much, Dr. Dodman describes fascinating case histories to illustrate various behavioral and medical syndromes, then describes the treatments for these problems. A handy summary at the end of each chapter saves time in locating the symptoms and treatment approaches for each syndrome. The disorders presented range from various types of aggression problems to fears and neurological disorders. He also discusses the importance of integrating newborn babies into the household to avoid jealousy and depression in the dog, or rare, but potentially devastating, attack on the newborn. Separation anxiety is a condition well known to those of us in rescue. Dr. Dodman describes its hallmarks: barking after the humans leave the house, destructive behavior, chewing on objects or themselves, anorexia (refusal to eat or drink) while the humans are away, elaborate greeting displays upon return to the house. Dr. Dodman calls these dogs, the Velcro ones, who follow their masters all over the house. He suggests a program to help the dog to stand on his own feet. He advises not to allow the dog to drape himself across your lap all the time: allow the dog to have his own space. He suggests ignoring the dog upon entering the house: make exits unceremonial. Altering the dogs expectations, and deconditioning them to the cues which signal departure, such as picking up your keys or putting on your coat. However, he admits that dogs are smart and will sooner or later begin to pick up other cues to departure. When all else fails, medications of the anti-anxiety and anti-depressant families may be helpful. Dr. Dodman describes rare conditions, as well. Rage Syndrome, for example, which he calls a "Jeckyll and Hyde" syndrome is characterized by sudden and unprovoked aggression of a most violent nature. There are mood changes before and after, a post aggressive depression and reduced responsiveness. There may be snapping at imaginary objects. The syndrome is seizure-related; therefore, a neurological examination, including EEG (electroencephalogram) are essential, to make the diagnosis. Dr. Dodman claims that some breeds are more susceptible to the disorder- English Springer Spaniels, Cocker Spaniels and Bull Terriers, for example. Dr. Dodman says that anti-convulsants like phenobarbitol produce promising treatment results, and it is no longer the case that all dogs with this disorder must be put down. Another strange neurological problem presents itself as chasing lights or snapping at imaginary or hallucinated objects, perhaps flies. Another rare condition is what Dr. Dodman terms "late onset" or "geriatric separation anxiety." When a dog, which previously may have only had a mild separation anxiety, begins pacing around the house at night, panting, clinging, whining, inappropriately seeking attention, urinating or defecating, Dodman asserts an undiagnosed illness may be the cause. He urges a thorough medical evaluation, including blood chemistry and X-rays. In his experience, the dog maybe anticipating tumors and other serious diseases before they are detectable by a cursory examination. Anti-anxiety medication, as well as pain relievers, along with other medical treatment may be prescribed. Many dog owners are puzzled by the repetitive licking of paws, which may cause severe ulceration in extreme form called, "licking granulomas." Dr. Dodman explains that licking may be akin to human obsessive-compulsive behaviors, such as repetitive hand washing. Behaviors of the obsessive-compulsive type are self- reinforcing as they release endorphins. He acknowledges that the licking behaviors may arise from stress or boredom;therefore, enriching the environment and occupying the dog maybe be important in treating the disorder. But Dr. Dodman also suggests a diet which is appropriate to the dogs level of activity; for example, avoiding a "high performance" diet if the dog does not get a lot of exercise. In fact, increasing exercise to twenty or thirty minutes a day may help. The medications of choice belong to the anti-obsessional class-Prozac or Anafranil. In Dogs Behaving Badly, behavioral and medical syndromes are presented in alphabetical form. In addition to the topics discussed in The Dog Who LovedToo Much, Dr. Dodman discusses maternal behavior and the phenomena of pseudopregnancies, as well as, the delusion of bitches who adopt objects as puppies. He gives a brief critique of varying dog training methods, such as harsh methods including the choke-collar, and those derived from the military. To an extent, he includes the Barbara Woodhouse method in that group, while acknowledging her positive contributions. He is more supportive of the use of the head halters (not to be confused with a muzzle), widely used in Britain, to gently enforce and guide movements. He also has positive words for clicker training, which I was delighted to find clearly and concisely explained. Dr. Dodman's books would have been welcome additions to the volumes I read to prepare for adopting my own rescued Maltese. His works continue to serve me as resources, just as they make for entertaining and illuminating first reads.
ASK THE DOG TRAINING INSTRUSTOR
Ask the Dog Training Instructor will return in February. If you have any questions to ask please email me and it will be printed in the next issue.

---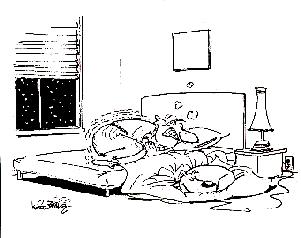 ---
---