MALTESE RESCUE CONTACT

DEDICATED TO PEOPLE IN RESCUE

QUOTES

NATIONAL MALTESE SPECIALTY

PET CARE

HOUSE TRAINING YOUR MALTESE

CRATE TRAINING

ASK THE DENTALVET

DID YOU KNOW?

10 TOP CRIMINAL OFFENSES YOU CAN WATCH FOR

LEAVING FIDO AND FLUFFY "HOME ALONE"

MALTESE HOROSCOPE

APRIL BIRTHDAYS

NEW ADDITIONS TO PHOTO ALBUM

NEW ADDITIONS TO THE FAMILY

LIBBY'S CHATROOM SCHEDULE

BUSTERS PRODUCT OF THE MONTH

JOKES

POEMS

JUST FOR FUN

SMILES FROM OUR WHITE FURBABIES
The Aries Dog
21 March - 20 April

The Aries Dog is adventurous and energetic, always exploring new areas. Aries dogs Love to go for walks and their pioneering nature leads them in new directions. Their confidence and impulsiveness sometimes gets them into precarious situations, whether it be following a squirrel into bramble or into a pond after a stick. But the Aries dog will always firmly and boldly assert himself and dive headlong into another escapade, especially if it's with that little mutt from across town that always seems to find the good sticks.

Happy Birthday from MalteseOnly

Roxie's Moose 4/98
LoriR's Lily 4/4
Piesper's Princess 4/4
BarbO's Charlie 4/6
TeraC99's Destiny 4/6
TeraC99's Demi 4/6
Linda's Trooper 4/6
Tammy's Crissy & Beenie Babie 4/10
Ronnie's Baron 4/10
BeeGee's Chiclet 4/11
Rachael's Felix 4/12
Loretta's Teddie 4/12
GingerC's CJ 4/13
Renee's Bella Me 4/13
Isabel's Ahzsie 4/15
MarieA's Gardenia 4/15
John's Bailey
TeraC99's Mirah 4/16
Cinder's Fluffy 4/16
Dana's Princess 4/17
HB's Chelsea Girl 4/17
Carolyn's Levi-Spikester 4/18
Betty S's Tiffini 4/18
Joy's Monique 4/18
JudyS's Archie & Zoe 4/19
Laurie's Emma The Hi-Lite Girl 4/19
Sandy's Shelby 4/19
Barbara's Touquet 4/19
Anni's Rutger 4/20
Shannon's Savannah 4/21
Katzeyez, Layla 4/21
Chewy's Chebaca 4/23
Karen's Clover 4/23
MaryP's Diva 4/24
Vera's Franki 4/24
NCM's Daisey 4/24
KathyM's Crystal 4/25
Marilyn & Valerie's MacKenzie 4/25
MsMystic1's Dandy & Vanessa 4/25
SusanH's Meshuganah Mucnchkin 4/26
Carol's Chardonnay 4/28
Scott's Petie 4/28
Opal's Lalita 4/29
JoannK's Precious 4/29
Cakato's Hunter 4/29

Happy Belated Birthday to:
Jeannie's Ellii Vivacious Belle 3/15
Malty's Tiffany 3/11 & Max 3/7

NEW ADDITIONS
TO PHOTO ALBUM
(Special Note: If your photo has not been posted please be patient. Jay has received an overwhelming amount of photos either by snail mail or e-mail. Your baby's picture will get posted. Your patience is greatly appreciated.)

NEW ADDITIONS
TO THE FAMILY!

Sharby's Bailey
Shelley's Ruby
John's Bailey
MaryK's Bailey
Bev's Heidi
Cindy's Sparkles
Melissa's Zoe
Amanda's Max
Carole's Benson
Shay's Natasha
Karens Munchkin
Brians Tally
SilviaB's Gigio (Luigi)
JuliannaR's Hannah
Angel's Angel
Fergie's Casper
Jackie's Pookie
Carole's Benson
Dorit's Kikki
Amy's Toby
Amanda's Rudy
Doug and Laurette's Mingo, Mya
Cakato's Hunter
Pitzele's Muffin
Vita's Boris
AmyM's Neelix
Cheryl's Miles
Rachel's Oliver
Jodi's Sugar Bear
Lyn's Mugzy
Lisa's Token
Debbie's Armoney
Sarah's Trevor
Tanglewood's Ted-d
Kim's Chloe

Our hearts and prayers go out to Julia who lost her Cassie on 2/26/99.

Sharon Thompson who lost her precious Tiffany 3/1/99 Lisa who lost her Minnie
---
PRAYER FOR A SICK PET

Lord take this pet if it be your will
she's so young and small and she's oh so ill
Don't let her suffer we ask you please
take this little soul and set our mind at ease
Guide her to Heaven where she'll be at home
There with all the other animals; she can play and roam
Playing all day up in the meadows above
cradled in Your arms covered with Your love
With no more aches and no more pains
She'll play in bright sunshine no more rain
We'll see her again we know we will
so take her Lord if it be your will
-John Quealy

MY LIFE
Submitted by Betty Scarver

I don't remember much from the place I was born. It was cramped and dark, but she was often sick, and very thin. She had hardly any milk for me and my brothers and sisters. I remember many of them dying, and I missed them so. I do remember the day I was taken from Mom. I was so sad and scared, my milk teeth had only just come in, and I really should have been with Mom still, but she was so sick, and the Humans kept saying that they wanted money and were sick of the "mess" that me and my sister made. So we were crated up and taken to strange place. Just the two of us. We huddled together and were scared, still no human hands came to pet or love us. So many sights and sounds, and smells! We are in a store where there are many different animals! Some that squawk! some that meow! Some that Peep! My sister and I are jammed into a small cage, I hear other puppies here. I see humans look at me, I like the 'little humans', the kids. they look so sweet, and fun, like they would play with me! All day we stay in the small cage, sometimes mean people will hit the glass and frighten us, every once in a while we are taken out to be held or shown to humans. Some are gentle some hurt us, we always hear "Aw they are So cute! I want one!" but we never get to go with any. My sister died last night, when the store was dark. I lay my head on her soft fur and felt the life leave her small thin body. I had heard them say she was sick, and that I should be sold as a "discount price" so that I would quickly leave the store. I think my soft whine was the only one that mourned for her as her body was taken out of the cage in the morning and dumped. Today, a family came and bought me! Oh happy day! They are a nice family, they really, really wanted me! They had bought a dish and food and the little girl held me so tenderly in her arms. I love her so much! The mom and dad say what a sweet and good puppy I am! I am named Angel. I love to lick my new humans! The family takes such good care of me, they are loving and tender and sweet. They gentle teach me right and wrong, give me good food, and lots of love! I want only to please these wonderful people! I love the little girl and I enjoy running and playing with her. Today I went to the veterinarian. it was a strange place and I was frightened. I got some shots, but my best friend the little girl held me softly and said it would be OK. So I relaxed. The Vet must have said sad words to my beloved family, because they looked awfully sad. I heard Severe hip dysplacia, and something about my heart... I heard the vet say something about, back yard breeders and my parents not being tested. I know not what any of that means, just that it hurts me to see my family so sad. but they still love me, and I still love them very much! I am 6 months old now. Where most other puppies are robust and rowdy, It hurts me terribly just to move. The pain never lets up. It hurts to run and play with my beloved little girl, and I find it hard to breath. I keep trying my best to be the strong pup I know I am supposed to be, but it is so hard. it breaks my heart to see the little girl so sad, and to hear the Mom and Dad talk about "it might now be the time". Several times I have went to that veterinarians place, and the news is never good. Always talk about Congenital Problems. I just want to feel the warm sunshine and run, and play and nuzzle with my family. Last night was the worst, Pain has been my constant now, it hurts even to get up and get a drink. I try to get up but can only whine in pain. I taken in the car one last time. Everyone is so sad, and I don't know why. have I been bad? I try to be good and loving, what have I done wrong? Oh if only this pain would be gone! If only I could soothe the tears of the little girl. I reach out my muzzle to lick her hand, but can only whine in pain. the veterinarians table is so cold. I am so frightened. The humans all hug and love me, they cry into my soft fur. I can feel their love and sadness. I manage to lick softly their hands. Even the vet doesn't seem so scary today. he is gentle and I sense some kind of relief for my pain. The little girl hold me softly and I thank her, for giving me all her love. I feel a soft pinch in my foreleg. The pain is beginning to lift, I am beginning to feel a peace descend upon me. I can now softly lick her hand. My vision is becoming dreamlike now, and I see my Mother and my brothers and sisters, in a far off green place. They tell me there is no pain there, only peace and happiness. I tell the family, good-bye in the only way I know how, a soft wag of my tail and a nuzzle of my nose. I had hoped to spend many, many moons with them, but it was not meant to be. "You see," said the veterinarian "Pet shop puppies do not come from ethical breeders." The pain ends now, and I know it will be many years until I see my beloved family again. If only things could have been different. THE END

(This story may be published or reprinted in the hopes that it will stop unethical breeders and those who breed only for money and not for the betterment of the breed. Copywrite 1999 J. Ellis)
If you are having trouble dealing with the loss of your Maltese or any other pet please visit the following Internet sites: www.petloss.com or www.bestfriends.com. There are several support groups who can help in dealing with this loss.



MALTESE ONLY
CHATROOM SCHEDULE

CHATROOM SCHEDULE
HOSTS: Libby & Buster
Special Chats

Monday, April 12, 1999
Time: 8:00 p.m. - 9:00 p.m. est.
Dr. Geraldine Hunt, BVSc MvetClinStud PhD FACVSc- Senior Lecturer in Liver Shunts
Topic: Liver Shunts and Luxuating Patellae

Saturday, April 17, 1999
8:00 p.m. - 10:00 p.m. est
Dr. Margaret Muns, DVM
Topic: Pet Health and Behavior

The MalteseOnly Chatroom is hosted every night, Saturday through Thursday from 8:00 p.m. until 10:00 p.m. EST (No Fridays, yes Jay gives me a night off!)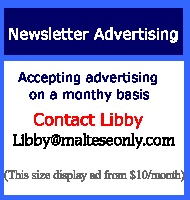 BUSTER'S PRODUCT OF THE MONTH
DENTAL KONG
Dental Kong: Patented "chew clean" grooves perform a gentle "squeegee" action on teeth and gums when chewed. Effectively removes food debris. Reduces plaque & tartar build up. Ultra-flex Kong rubber with diamond braid cotton floss rope.
A BIRTHDAY POEM FROM THE DOG

You feed me when I'm hungry, You keep water in my dish,
You let me sleep on anything,
Or in any place I wish.
You sometimes let me lick your hands,
Or even lick your face,
Despite the fact I've licked myself,
In every private place.
You taught me how to come when called,
You taught me how to sit,
You always let me go outside,
So I can take a ......................stroll.
I've been with you through oh, so much,
Through laughter and through tears,
I hope you live to be a hundred...
that's 700 in doggy years.
signed, Klondike
ROOM FOR ONE MORE DOG

I see by his coat he must be a stray,
the untidy look gives him away.
He's lost his will and is so thin
hasn't eaten, since God knows when.
I know as I coax him through the door,
There's always room for one more.
The other night in the freezing rain,
That little female came again.
Matted and soaked crying in need,
lost and alone with babies to feed.
Her pleading eyes I couldn't ignore,
There's always room for one more.
There's a new face on the docks today,
hungry but clean.
to our dismay, I stroked her head
Her body ripples when she got up
I saw she was crippled
she started to go, but fell on the floor.
There's always room for one more.
There's the poor doggy standing in the rain,
I've tried to entice him Time and again.
One ears lopsided the other's been torn,
Blind in one eye lost and forlorn.
He's coming now, so I'll open the door.
There's always room for one more.
These stories are true, As I've said before,
There's always room for one more.
Anonymous
"MISCHIEF"

The Talented Paw of Ragamuffin~
"Ragamuffin" they call me,
the smallest of the family.
A tiny prince is what I am,
spreading love to all I can.
I love cookies, treats and food;
when there's snacks I'm in the mood.
Find a sunbeam, snooze and snore.....
wake up hungry, beg for more.
Will anyone, come out to play?
I'm always ready, Night or Day.
Fetch and Pounce and Tug and Tag...
one end licks, the other wags.
I'm cuddly, cute, sweet as can be;
But Innocent?? NO!, that's not me.
"Mischief " is my niddle name,
Yet they love me all the same.
Author Unknown


A RIDDLE TO BE SOLVED
........can you do it?
************************************************


The poor have it.
The rich need it.
What is greater than god?
What is more evil than the devil?
If you eat it you'll die?

This is all one riddle, with one answer. An interesting stat, is that 70% of Stanford University students couldn't work it out, however 80% of Kindergarten kids could!


SUPER POWERS MOST COVETED BY DOGS
Submitted by Tammy Hauptman

Invisibath -- The power to disappear at the first sound of bath water
ViseHump -- The leg hump grip of steel
AquaField -- Immunity to bucket of cold water when copulating in driveway
Skeetvision -- The ability to shoot laser beams from your eyes to blast that damn Frisbee out of the sky
SuperBladder, loaded with Toxi-Urine -- One lift of the leg and this town is mine!
AnalTelepathy/ButtSniffery -- Two powers which when combined allow one to smell another dog's butt without actually having to get up and move around
John-O-Matic -- Turns any toilet bowl into a punch bowl by sheer force of will
ChuckSpeed -- Ability to catch that friggin' Wagon Train
AntiPsych-Out -- Immunity to all that "fake throw" nonsense
VacuCalm -- Utter self control whenever the vacuum cleaner is turned on
GucciTract -- An invincible digestive system that sustains itself entirely on designer shoes
King Fido's Touch -- Everything you touch turns into crap

And the Number 1 Super Power Most Coveted by Dogs...
DoberMorph -- Ability to change into a Doberman anytime someone rolls up a newspaper
Author Unknown

ACQUIRED CANINE OBSESSIVE SYNDROME (ACOS)
Submitted by KMerchant We have identified a new disease, probably caused by a virus, among dog-owning people. It apparently has been in existence for a considerable time, but only recently has science identified the disease, and begun to study it. It is called Acquired Canine Obsessive Syndrome or ACOS. At first ACOS was originally considered to be psychological in origin, but after two young researchers here suddenly decided to become show breeders we realized that we were dealing with an infectious agent. Epidemiologists here have identified three stages of the disease, and typical symptoms.

A. You have early symptoms (Stage 1) if: 1. You think that any show within 300 miles is close.
2. You begin to enjoy getting up at 5 in the morning to walk and feed dogs.
3. It is fun to spend several hours a day grooming dogs.
4. You think you are being frugal if you spend less than $3000 a year on shows.
5. You can't remember what it was like to have just one dog.
--------------------------------------------------
B. You definitely have the disease (Stage II) if:

1. Your most important factor when buying a car is how many crates you can fit in it.
2. When you look for a house, the first thing you think of is how many dogs you can kennel on the property.
3. Your dog food bill is higher than the grocery bill.
4. You spend as much or more on Veterinarians as you do on Doctors.
5. You have no money because of showing dogs.
6. You have to buy more than one vehicle a year because you keep burning out the 7 year or 70,000 mile warranty going to shows.
7. You have more pictures of your dogs than you have of your family.
8. Your idea of a fun vacation is to hit a show circuit.
9. Most of your conversations revolve around dogs.
---------------------------------------------------------------
C. You are a terminal case (Stage III) if:

1. You wake up in the morning to find that you have put the kids in the crates, and the dogs in the beds last night.
2. You know each dog's name and pedigree, but can't figure out who that stranger in the house is, and it turns out to be your spouse.
3. Your neighbors keep insisting that those kids running around your house are yours.
4. You keep telling the kids to "heel", and can't understand why they won't. And why they keep objecting to the choke chain.
5. You cash in the kid's college trust fund to campaign the dogs.
6. You've been on the road showing so long that you can't remember where you live.
7. Your family tells you "it's either the dogs or us!" and you choose the dogs.

Do you have this dread disease? Well there is hope. In the course of our research we have found that most cases seem to stop at Stage II and remain chronic. We have with great difficulty, managed to acquire several Stage III ACOS patients. They are currently in our isolation wards, where we are studying them to gain a better understanding of this disease. It is a sight, seeing these formerly vibrant people as they shuffle around their rooms in endless Triangle or L-Patterns, making odd hand motions (delusions of holding a leash?) and making chirping noises or repetitively saying "cookie" in a high pitched voice. Merely saying the word "Westminster" can send them into an uncontrollable frenzy.

Unfortunately, there isn't much hope for these cases, but with time and research we hope to further understand this disease and come up with a cure. We are now attempting to isolate the causative agent, and may be able to develop a vaccine in the near future. An interesting sidelight of this disease seems to be that exposure at an early age has an immunizing effect. Several people afflicted with ACOS at Stage II and Stage III have close family members (children/wives/husbands) who have absolutely no signs of the disease. It is thought by some that this may be due to some environmental effects, to an age related immune function, or maybe the fact that people in these stages of the disease tend not to associate with their close family members, due possibly to memory deficit induced by the disease -- that is, in layman's terms, they don't remember they have close family members!

What can you do to prevent this disease? Until a cure is found, prevention is the best measure. Avoid kennels advertising "Show Dogs", since it may be that the dogs are carriers of this disease. Leave town on those days that the local newspapers inform you of a dog show in the area. If you inadvertently come in contact with an ACOS person, leave as soon as possible (they do tend to cling) and thoroughly shower, preferably with a germicidal soap. If you are living with one take comfort in the fact that if you haven't succumbed yet, you are probably safe.
Inspirations
Submitted by Karen Kluitenberg Things we can learn from a dog:

1. Never pass up the opportunity to go for a joy ride.
2. Allow the experience of fresh air and the wind in your face to be pure ecstasy.
3. When a loved one comes home, always run to greet them.
4. When it's in your best interest, always practice obedience.
5. Let others know when they've invaded your territory.
6. Take naps and always stretch before rising.
7. Run, romp, and play daily.
8. Eat with gusto and enthusiasm.
9. Be loyal.
10. Never pretend to be something you're not.
11. If what you want lies buried, dig until you find it.
12. When someone is having a bad day, be silent, sit close by and nuzzle them gently.
13. Delight in the simple joy of a long walk.
14. Thrive on attention and let people touch you.
15. Avoid biting when a simple growl will do.
16. On hot days, drink lots of water and lie under a shady tree.
17. When you are happy, dance around and wag your entire body.
18. No matter how often you are criticized, don't buy into the guilt and pout. Run right back and make friends.

Subject: Cats & Dogs

What is a Cat?
1) Cats do what they want.
2) They rarely listen to you.
3) They're totally unpredictable.
4) They whine when they are not happy.
5) When you want to play, they want to be alone.
6) When you want to be alone, they want to play.
7) They expect you to cater to their every whim.
8) They're moody.
9) They leave hair everywhere.
10) They drive you nuts and cost an arm and a leg.
Conclusion: They're tiny women in little fur coats.

What is a Dog?

1. Dogs lie around all day, sprawled on the most comfortable
piece of furniture in the house. 2. They can hear a package of food opening half a block away, but don't hear you when you're in the same room.
3. They can look dumb and lovable all at the same time.
4. They growl when they are not happy.
5. When you want to play, they want to play.
6. When you want to be alone, they want to play.
7. They are great at begging.
8. They will love you forever if you rub their tummies.
9. They leave their toys everywhere.
10. They do disgusting things with their mouths and then try to give you a kiss.


Conclusion: They're tiny men in little fur coats.
Author Unknown
HOW TO SPEND A TWO DOG NIGHT
Submitted by Halen Foster

I will address myself mostly to the rules for sleeping with two dogs. For the few who have already mastered this technique, I will later add a cat, although I urge beginners to leave the cat out.

To achieve any sort of success, certain arbitrary conditions must be assumed, the first one being that you must have a king-sized bed. There is no point in lying down in anything smaller. While the size of the breed of dog is not important (people who sleep with dogs know that before the night is over everybody collects into a pile), the condition of the dogs may be. Very thin dogs, for example, are lumpier. I have selected the two-dog minimum because, as we shall see, it is the only way to stay in bed at all. The key word here is LEVERAGE. All dogs spend the night pressed tightly against their human bedfellows, but no two dogs ever sleep on the same side. This is, in part, an expression of the "Let Sleeping Dogs Lie Principle". It is also to create leverage. Because the human being is always in the middle, held tightly in place by the dogs and by his blanket (which the dogs are sleeping on top of), restlessness and recurring cramps are difficult to handle. Here is the tip: When you first lie down, AND BEFORE THE DOGS SETTLE AGAINST EACH SIDE OF YOU, Spread your legs three inches apart. Stiffen and hold out NO MATTER HOW GREAT THE PRESSURE! When the time comes to turn over, bring the legs together quickly under the now slightly slackened blanket and revolve BEFORE THE DOGS WAKE UP. As soon as you have assumed a new position, allow for those crucial three inches again; otherwise, you're a mummy for the rest of the night. NEVER SPREAD THE LEGS MORE THAN THREE INCHES' A dog's favorite place to sleep is in the hollow created by legs too widely spread, and once settled, he and you are frozen into position until morning. (There is a way out of this trap, but it is difficult to describe without slides). Dogs who prefer to sleep on their backs MUST BE GIVEN SPACE THREE TIMES THE HEIGHT OF THE DOG AT THE SHOULDER. Dogs who like pillows may be accommodated if you sleep on your side with the legs scissored so that each dog has an ankle for a chin rest. Above all, BEWARE OF CURLING! When the curl is reversed, both dogs are dislocated, resulting in low growls on both sides of you. When you are ready to add a cat, position is all important. All cats prefer to sleep in hollows, but NO CAT WILL SLEEP ON THE SAME SIDE AS A DOG. (Remember, you have only two sides). YOU MUST THEREFORE BECOME A TRIANGLE! Do this by assuming a horizontal diver's crouch, thereby creating not only three more-or less exclusive sides but two hollows as well. With one dog at your front, and the other against your back, the cat can curl into the hollow at the back of your bent knees, separated from both dogs. All will then sleep soundly. This entire technique still needs a lot of refinement. A method that deals with early morning scratching needs to be developed, and the problem of pretending to sleep while being closely scrutinized by various animals needs to be solved.
Author Unknown
THE FOLLOWING WERE ACTUALLY TAKEN FROM RECENT CLASSIFIED ADS IN NEWSPAPERS:
Submitted by Cathy Brown

FREE PUPPIES: 1/2 COCKER SPANIEL - 1/2 SNEAKY NEIGHBOR'S DOG

FREE YORKSHIRE TERRIER. 8 YEARS OLD. UNPLEASANT LITTLE DOG.

FREE PUPPIES...PART GERMAN SHEPHERD - PART DOG

GERMAN SHEPHERD 85 lbs. NEUTERED. SPEAKS GERMAN. FREE.

FOUND: DIRTY WHITE DOG. LOOKS LIKE A RAT... BEEN OUT AWHILE.. BETTER BE REWARD.



PET PERCH CAR SAFETY SEAT
http://www.malteseonly.com/petperch.html

The Pet Perch retails elsewhere for $39.95, your cost through this Special Offer will be only $24.95 + $7.25 shipping & handling with $5.00 going to The National Maltese Rescue Fund. This special offer available only through the MalteseOnly Website. To get yours, simply mail a check or money order for $24.95 plus $7.25 for shipping and handling for a total of $32.20 (anywhere in the continental US), Florida residents add applicable sales tax to:

Jay Bianco
PO Box 383
Mt. Morris, Pa. 15349

Please allow 1-2 weeks for delivery via UPS

* 1-800-548-2423 *

The National Animal Poison Control Center has a 24-hour toll-free number to assist with poisoning problems --

Submitted by KathyS
A distraught woman telephoned the vet. "Doctor, my dog just swallowed a roll of film! What should I do?" "Nothing at All" the doctor replied. "Let's just see what develops."

"Your dog is pretty dirty." Mrs. Trupin said to the little girl. "Yes", the girl said, "and he's even prettier clean"

What does Timmy use to make Lassie's food? Collie flour.

There was the dog who was roaming down the street when he saw a park bench with a sign that read, "Wet Paint." So, he did.
Canine Affair
Submitted by Roty2000

A man and his secretary are having an affair, so one afternoon they get a motel room and have strenuous sex. He's not used to the pace, so he falls asleep afterwards and doesn't wake up until about 8:30 that night, at which time he realizes it's late and that he has to get home. He says to his secretary, "Quick! While I get dressed, you take my shoes outside and drag them around through the grass and mud." Puzzled, the secretary complies.

When the man gets home about 9:30 his wife confronts him and asks him where he's been. The man confesses and says, "I cannot lie to you. I spent the better part of the day doing my secretary in a motel room, then I fell asleep, woke up later, and came right home." The woman looks down at his shoes and says, "You lying b#st@rd, you've been out dog training again!

Submitted by Tammy Hauptman
It was a slow day in heaven so God telephoned Satan to see what was going on. "It's slow here too," says Satan. "Well," God said, " I think a dog show might be fun. Let's put on a dog show." "Sounds good," says Satan, "But why are you calling me? You've got all the dogs up there." "I know," answered God, "But, you've got all the judges down there!"
THE DUCK HUNTER
Submitted by Cathy Brown

The duck hunter trained his retriever to walk on water. Eager to showoff this amazing accomplishment, he asked a friend to go along on his next hunting trip. Saying nothing, he fired his first shot and, as the duck fell, the dog walked on the surface of the water, retrieved the duck and returned it to his master. "Notice anything?" the owner asked eagerly. "Yes," said his friend, "I see that fool dog of yours can't swim."
Laptop
Submitted by Windsong

I met a lady the other day and she had just purchased her very first laptop. She was so proud and so excited. She went on about how much it cost and that it was top of the line. Everyone who saw it, asked her where she got it and said that they just had to get one too. She talked about how much fun she had playing with it and how she played with it all the time. She said she was just crazy about it and she took it everywhere with her. She even took it on the plane with her. She said she had a purse and it that it was just perfect for toting it around in. She said she never left it in the car, because she was afraid it would get too hot or too cold in there for it or worse yet, it might be stolen. She even thought her husband, was getting just a wee bit jealous, because of all the time she was spending with it and due to her bringing it to bed every night and playing with it some more. I listened, as the lady spoke and I just kept smiling and nodding my head in agreement. She finally asked, "oh...do you have a laptop too?" "Oh yes!", I replied. "I have four of them", I said proudly. At that point, the lady looked impressed. "But", I continued, "only one of mine types." (Lacey...remember?) Then, the lady looked confused. Come to find out....she didn't even own a Maltese. Now, that...was one, weird lady. The End
---
"SMILES FROM OUR WHITE FURBABIES" Question : What is the most important thing in life your Maltese gives to you? Answer: Unconditional love, companionship and support.



A special thanks goes out to the Sponsors of MalteseOnly:

Woof Online Auctions

http://www.malteseonly.com/auction

Note: If you wish to submit an article, poem, joke, birthday, etc. for MalteseOnly News please send an email to: Libby@malteseonly.com All submissions must be to me by the 25th of the month.
Thanks to the many people who have made the Maltese Only Website and Newsletter such a success. A special thanks go out to our Sponsors.
---
As quoted by Dr. Jane Leon, from America's Health Network, "Be good to your pets, they try so hard to be good to you and for you"
---


Get a free MalteseOnly email address
TO SUBSCRIBE
OR UNSUBSCRIBE
To unsubscribe from the MalteseOnly Newsletter, simply go to http://www.malteseonly.com/subscribe.html then enter your email address and check "unsubscribe" or subscribe and submit.
---
Maltese Only Newsletter
© 1999 All Rights Reserved

Tell a friend about our Newsletter
April 1999
Maltese Only News

Editor's Note:
Welcome to MalteseOnly News! MalteseOnly went online in May of 1996. Created by Jay and Bev Bianco of Mt. Morris, PA. Today several thousand visitors daily find themselves at this website.
The Maltese Only site provides a multitude of information on the health, care and training of a Maltese. The Discussion Forum is the #1 Dog Discussion on the Internet.
Maltese Only has the most dedicated fans on the Internet. This Maltese Only News is dedicated to them.
To unsubscribe from the MalteseOnly Newsletter, simply go to http://www.malteseonly.com/subscribe.html then enter your email address and check "unsubscribe" and submit. You will be removed immediately from any future mailings and announcements.
Libby Johnson, Editor
Libby@MalteseOnly.com
Jay Bianco,Co-Editor

M ALTESE RESCUE
Jay and Bev Bianco - (724) 324-9401
Mt. Morris, PA

Interested individuals may now subscribe to the new National Maltese Rescue email list of announcements. To subscribe or unsubscribe, point your browser to:
http://www.malteseonly.com/rescues.html
*DEDICATED TO PEOPLE IN RESCUE*

TO THOSE THAT RESCUE--
THAT HAVE NO FUTURE
A special few don't fear a fire,
though they know that it can burn.
They're strong enough to see some good
so, from the fires heat they learn.

When the fire's under their control,
they draw warmth from it's flame.
from the blaze some sparks will still escape,
some fires can't be fully tamed.

Some dogs have hearts ablaze with fire,
still the special few don't fear.
They find the good within the dog,
through blood and sweat and tears.

Then finally, when the time arrives
for a tough dog's life to end.
It's hard for special people,
knowing they're his only friend.

But at the bridge, there's a different place,
where the tough guys gather round.
The clouds aren't made of cotton balls
and there's dirt upon the ground.

No one hurts a dog at that old bridge,
they would have to be a fool.
Cause that's the only spot around
where the tough dogs make the rules.

To you who've loved these special dogs,
just remember when they leave.
Up there the dog will always win,
and the people all wear sleeves.

They didn't ask to be made hard,
Or kicked, or starved or beat.
they just tried to tough it out
by turning up the heat.

They paid the price of being strong,
They lived their lives alone.
Except for the lucky few of them
who special people gave a home.
-Scott Dunham

SPECIAL RESCUE STORY - Damon and Amber
Submitted by Libby
Damon and Amber came to the National Maltese Rescue on February 11, 1999. Damon, 6 years old and Amber 5 years old and have been together since they were babies. Their father is a very caring person and loves them very much. But he couldn't keep them because of a change in his work schedule. He asked that they be placed together and wanted to take part in the interviewing of the new prospective parents. Unfortunately no one wanted two Maltese. And again, not older ones. Everyone wants a puppy. Then along came Claire Fuller who drove down to meet Damon and Amber and their father. Claire fell in love with the two and decided to adopt them. It was agreed that the present father would deliver them in a week. Their father called me on the Thursday nite, the day before he was to take them to Claire. Of course my heart was in my throat thinking he was going to keep him and I would have to call Claire and break the news. But no. He just wanted to tell me that he took several long walks on the beach with Damon and Amber, got them groomed and bought them lots of toys, yummies and food. This broke my heart to know how much he cares. Damon and Amber were delivered to Claire that Friday and now have another warm, loving home. Claire says they are doing great. Their father called me this weekend and asked for the address to the National Maltese Rescue because he wanted to make a donation to those who are not as fortunate as his two Maltese are. Thanx goes out to Gregg (Damon and Ambers former father) and Claire Fuller for giving these two furbabies the life they deserve.
National Maltese Rescue

PRESS RELEASE FOR IMMEDIATE RELEASE:
February 25, 1999
FOR FURTHER INFORMATION: Dale Bartlett, (757)427-0070 x13
GENERAL ASSEMBLY PASSES BILL TO MAKE ANIMAL CRUELTY A FELONY
RICHMOND, VA -- The General Assembly gave final approval today to a bill that would make repeated acts of egregious animal cruelty a Class Six felony, punishable by up to five years in jail.
Passage of SB 851, initially proposed by the Virginia Beach SPCA, makes Virginia the 23rd state to include a felony provision in its animal cruelty statutes. The Virginia felony provision would kick in only on a second offense of animal cruelty within a 5 year period, and only if at least one of the acts resulted in the death or euthanasia of an animal.
"We are elated that the general assembly has recognized that there are certain violent, willful acts perpetrated on animals that are attacks on our society and our way of life," said Virginia Beach SPCA Executive Director Sharon Quillen Adams. "Vicious animal cruelty is a violent crime, committed by dangerous people. Now that can be charged and sentenced accordingly."
The VBSPCA's petition drive garnered support for their legislation from more than 2,500 organizations and individuals across the state, including Big Brothers/Big Sisters, the heads of several psychiatric hospitals, and the Commission on Domestic Violence Prevention. Research in psychology and criminology shows a strong correlation between cruelty to animals and personal violence to humans -- including rape, murder, family violence, and even serial killing.
SB 851 was patroned for the VBSPCA by Senator Ken Stolle (R-Va. Beach), who is chairman of the Crime Commission. Delegate Jerrauld Jones (D-Norfolk) told his colleagues in the House on Tuesday that they often don't take matters relating to animals seriously enough. He then chronicled a list of heinous crimes against animals in Virginia, including the case of Virginia Beach teen Shawn Novack, a convicted murderer who bragged about killing animals before killing two young neighborhood boys. "Many violent criminals start out of committing violence against cats or dogs," Jones said. "If we can intervene early enough, we'll be taking a very significant step."
The measure passed the House by a vote of 91-3, after passing the Senate unanimously. Governor Gilmore is expected to sign the bill within 30 days. (Note: the 3 who voted against the bill were Delegates Rust (R-Fairfax), McClure (R-Fairfax), and Melvin (D-Portsmouth).

QUOTES
Submitted by Halen Foster
You know you are addicted to MalteseOnly when your computer needs work and you schedule an on site repair service so you don't miss a day! This is a true statement by the addicted, but can stop anytime....Halen Foster!

NATIONAL MALTESE SPECIALTY
Announcement:
1999 National Maltese Specialty Show -
New Orleans, LA May 26-28, 1999

PET CARE
America's Health Network at www.ahn.com

BOARDING A PET
There are several factors to consider when boarding a pet. First, the facility should be clean and well-maintained, and you should be allowed to fully inspect the premises. Experts recommend not leaving a pet at a kennel that doesn't welcome you or your questions. Next, you should make sure that your pet has had all vaccinations, and most boarders will want written verification of this. It is also a good idea to leave the name and number of your veterinarian with the border in case an emergency arises, but remember to tell your vet that you are doing so. Finally, you can ease your pet's homesickness by leaving a favorite toy or blanket with it while it boards. If your dog or cat is a picky eater; you may want to also supply its own food. If you hate the idea of boarding your pet, there are some pet-sitting services available. These allow the animal to stay home while a hired "sitter" regularly walks and feeds it. For more information on boarding a pet or on pet-sitting options, consult a veterinarian in your area.
Common dog problems
According to the American Veterinary Medical Association, the most common problems in dogs include failure to have dogs vaccinated, overpopulation caused by not spaying and neutering, and obesity. Dogs, like humans, can be protected against many serious and potentially fatal diseases caused by bacteria and viruses by getting vaccinated. Your veterinarian can give you advice concerning vaccination schedules, boosters, and any precautions to take when having your pet vaccinated.
Overpopulation caused by failure to spay or neuter dogs causes many unwanted dogs that are put to sleep in animal shelters and pounds. In addition, dogs that have been or spayed or neutered tend to have lower rates of cancer and are less likely to roam since they don't need to pursue a mate.
As dogs age, obesity may also become a problem. This extra weight stresses the dog's heart and kidneys, and increases the rate of diabetes and other serious health problems.
Routine checkups for pets One thing our pets cannot always do is let us know when they are sick. That's why regular visits to the veterinarian are so important. During a check-up, your veterinarian will often take your pet's weight and temperature along with asking you any questions about your animal's behavior and diet. The doctor may also check the ears, eyes, mouth, skin, and coat for any problems. In some cases, blood and stool samples may be taken to test for parasites and disease. Certain vaccinations and medications may also be given to your pet to protect against illness. It is important to take your pet for check-ups at least once a year. Don't be afraid to ask your veterinarian for any information regarding your pet. Ask your veterinarian about proper nutrition as well and what to do to prevent potential problems. Check-ups are good for both the animal and its owner. The more you know, the better you can properly care for your pet.
For more information on your pet's routine check-ups, common dog problems, Or boarding a pet contact your veterinarian.

HOUSE TRAINING YOUR MALTESE
A quick and easy guide to take the mystery out of house training offered by Academy of Canine Behavior, Bothell, Washington, (206) 486-9567
There are three different categories that fall under the concept of house training:
Basic house training--This applies to establishing an allowable toilet area for puppies or older dogs that are new to your home. Problems can include both urination and defecation.
Submissive wetting--This relates only to urination that occurs when greeting or disciplining, or if the dog is highly excited.
Marking--This can include defecation, but is more commonly a urination marking problem. Both male or female dogs can display this behavior. It is only seen in dogs that have reached puberty.
If your dog has a problem with submissive wetting and is older than four months, or if your dog is displaying marking behavior, we would suggest you contact us for an evaluation. The evaluation will help determine why there is a problem. There is no charge for this service.
House training

If you are committed and prepared from the first moment you introduce your new puppy or dog to your home, it should take about two weeks to achieve appropriate house training behavior.

If you have a puppy or dog that has already developed a bad habit in house training, new reliable behavior will take at least six weeks to establish.

Always make sure there are no medical problems complicating issues. Any type of urinary tract infection or intestinal upset makes house training difficult at best. Some medications can also interfere with the process.

Diet can be very important. Some foods can make it more difficult to house train a dog.

Toilet areas can be as general as an area outside, or as specific as a litterbox. You must have a clear idea, however, of what is an acceptable toilet spot before you start educating your dog. And yes, your dog can be trained to use only a specific corner of the yard if you are willing to take the time to train your dog to that level of understanding.

Your attitude is probably the most important ingredient in the formula of house training. You are taking your puppy or dog through a process of education. He does not know that it is wrong for him to use your carpet as a toilet. His mother never told him. It is not pre-programmed into his genetic coding. It is your job to help him understand the whole concept. Do you speak "dog"? He doesn't speak "people". This language barrier is best conquered with patience and understanding.
Create a schedule

1.You are creating a schedule for your dog. Create one that is convenient for you! 2.Do not feed your dog free choice meals while establishing a house training schedule. Keep all meals on a predictable schedule. Snacks and treats should be kept to a minimum while setting a schedule. And avoid any "rich" foods that could upset the bowels of your dog. 3.Establish a bed time and waking-up time. Try to stick to these times as close as possible. 4.Young dogs need a lot of nap times; make sure the schedule provides for these. Keep in mind, the dog will need to be taken out after all naps. 5.Anytime the dog has been emotionally stimulated (i.e. badly scared or frightened, a very rowdy play session), she may experience the need to eliminate. 6.Most dogs will be able to "hold it" for eight hours during the night within two to three days, but daytime schedules have a lot more variables. Pay attention, supervise and educate your dog and you will establish a daytime schedule you both can live with.
Supervise in the house

1.If you know where your dog is at all times, and what he is doing, you can catch him before he makes a mistake.
2.If he starts to make a mistake, firmly but calmly say "No" and take him straight out to the toilet area. Do not yell at him or chase him. 3.If you are busy and cannot totally supervise your dog; put him in a contained area where he won't make a mistake, or tie him to a doorknob in the area you are in. 4.If you are sitting watching TV or reading, have the dog with you or on a leash. This way, the dog cannot wander into another room and make a mistake. Before you relax, give your dog some of his toys to play with, so that he learns that being with you is pleasant.
When supervision is not possible (gone to work all day)

1.Provide a small area to contain the dog in (e.g. a small bathroom with all temptations removed, a fenced-off corner of the garage or a crate). 2.Do not leave food or water with the dog, and do not load the dog down with "doggie cookies" just before you leave. 3.If you are gone for more than eight hours, it would be good to find someone who can go in and give him a drink and a chance to relieve himself.
Take your dog out

1.Take your dog out to the desired toilet area and stand quietly while the dog investigates the area for the right spot. This is not play time! Do not distract the dog by trying to talk him into "hurrying up". Three to five minutes is the length of time you should give the dog. If he doesn't go in that time, return him to the house, contain him another half hour, then try again. 2.When he does start to potty: quietly and calmly praise him while he's in the process of going. Use the word you have chosen for this (e.g. "good potty"). 3.When he is finished you can praise him with more enthusiasm. 4.Learn your dog's habits. Some dogs need to "potty" two or three times per outing. Urination is often followed by defecation. 5.If the weather is foul and you are not happy about having to take your dog outside, it is very important not to let him sense this. You may create a dog that doesn't like using the outside as his toilet in foul weather. 6.While you are learning your dog's individual habits, take him out when he wakes up, after he has eaten and after all play sessions.
When you catch the dog in the act

1.Quietly, but very firmly say "No". If you must add volume to get the dog's attention, clap your hands. 2.Help the dog get outside to the appropriate area.
Follow the preceding instructions for taking the dog out.
3.Clean the mess with an odor neutralizer or an odor killing product. The dog's sense of smell is much better than ours. If it smells like a toilet area to the dog, he will continue using that area for a toilet.
If you find a mess later

1.Realize that the dog wasn't properly supervised. 2.Put the dog on a leash and calmly bring her to the scene of the accident. Keep the dog to your side, not in front of you, while the dog is watching, quickly and very firmly scold the potty. Do not scold the dog. 3.Blot up some of the urine on a piece of paper, or pick up some of the stool with a tissue, and take it and the dog out to the appropriate toilet area. Place the paper with the potty on the ground and with the dog watching, praise it for being in the right area. Then leave it there. 4.Clean up the remaining mess as previously described.

CRATE TRAINING YOUR MALTESE
Crate training has long been accepted by professional trainers and veterinarians as one of the quickest and least stressful ways to mold desirable behaviors in dogs. Although many new dog owners initially reject the idea of using a crate because they consider it cruel or unfair to the dog, a crate helps to satisfy the dog's denning instinct while being the answer to many problems faced by dogs and their owners.
What is a dog crate?

Recommended type of crate -a plastic "airline carrier". Plastic is easy to clean, lightweight, and doesn't squeak like the metal crates do when the dog moves inside them. They are generally more comfortable than a wire crate, and make the dog feel more secure. Crates come in a variety of sizes proportioned to fit any type of dog. It's just big enough for a dog to stand up, lie down and turn around in. Its purpose is to provide confinement for reasons of safety, housebreaking, prevention of destructive behavior, or travel. The crate is a place for the dog to be when no one is around to supervise. It is the dog's bed and sanctuary.
Why use a dog crate?

Correctly and humanely used, a crate can have many advantages for both you and your dog

You...
Can enjoy peace of mind when leaving your dog home alone, knowing that nothing can be soiled or destroyed--and that she is comfortable, protected and not developing any bad habits. Can housebreak your dog quickly by using the confinement to encourage control, establish a regular routine for outdoor elimination, and prevent accidents at night or when left alone. Can actively confine your dog at times when she may be under foot (i.e., when you have guests, at mealtimes), over-excited, or bothered by too much confusion or too many children. Can travel with your dog safely and be assured that she will more easily adapt to strange surroundings as long as she has her familiar "security blanket".

Your dog...
Can enjoy the privacy and security of a "den" of her own, to which she can retreat when tired, stressed or ill. Can avoid much of the fear, confusion and anxiety caused by your reaction to problem behavior. Can more easily learn to control her bowels and to associate elimination only with the outdoors. Can be spared the loneliness and frustration of having to be isolated, in the basement or outdoors, from indoor family surroundings when being restricted. Can be more conveniently included in family outings and trips instead of being left behind alone.

Because dogs are highly social animals, it is important that they are indoors much of the time, even when you are not home or are sleeping and can't interact with them. Your dog needs to feel that she is a part of the family, and that feeling of belonging comes from being included in family activities and living in the house even when her family may not be there. A crate allows you to leave her in the house when you are away, or unable to supervise her. If she were to spend large amounts of time outside, she would very likely start to exhibit problem behaviors such as barking, digging, fence jumping and chewing. These problems can be avoided by keeping her inside and making her an integral part of the family.
Use but don't abuse

Confinement in a dog crate is not recommended for a dog who must be frequently left alone for extended periods of time, such as all or much of the day while you are at work or school. Four or five hours while you go shopping, or overnight so you can sleep without having to worry about what the dog is doing is fine. If the dog must be left for longer periods of time, she should be confined to a larger area, such as a basement, secured room or exercise pen. Crate or no crate, any dog constantly denied the human companionship she needs and craves will be lonely and will find ways to express anxiety, depression and stress.
Crate specifics

Crates can be obtained from most pet supply stores, some department stores, or you can check the newspapers to see if you can find a used crate at a lower cost. The cost of a crate may seem expensive at first glance, but remember that it will last for the lifetime of the dog. Also compare it to the cost of losing furnishings and carpets to a dog's unrestricted behavior.

Your dog's crate should be just big enough for him/her to stand up, lie down and turn around in. If your dog is a puppy, you will need to estimate her adult size and buy a crate that will be big enough for her as an adult dog. Then put cardboard boxes and replace them accordingly. To size a dog for a crate, stand the dog next to the crate. The top of the crate should extend two inches above the dog's shoulders. The end of the crate should be two inches from the dog's rump. Perfect fit.
Introducing the crate

Place the crate in the most often used room in the house, such as the kitchen or family room. At night, move the crate into your bedroom. Make the crate as comfortable as possible, with a blanket or towels for bedding. Leaving the door open, try to coax the dog into the crate using a phrase like "Get in your bed". Place a treat in the crate and praise the dog when she goes inside to get it. Let her leave immediately if she chooses. Spend time by the crate, talking to the dog and petting her as long as she's in the crate. Stop this attention when she leaves the crate.

Once she seems comfortable going in and out, close the door with her and some treats inside. Stay with her, talk to her, and give her treats if she seems nervous. At first, confine the dog for short periods. If she whines while in the crate, do not let her out. If you do, you have just taught the dog she can get her way by being vocal. Wait until she becomes quiet before releasing her. As she begins to positively regard the crate, the time periods can lengthen. Soon the dog will find comfort and security in her "den".

Crate training a dog takes anywhere from 30 minutes to a week. Puppies usually accept their crate quicker than adult dogs, but with persistence and patience any dog will soon view the crate as a secure and safe haven. Although not an answer for all behavior problems or a substitute for your personal time spent training the dog, a crate will help your dog form positive behaviors and become an important member of your family.


ASK THE DENTALVET
Dr. Jan Bellows, DVM
Dr. Bellows specializes in the treatment of small animals, and is a Diplomate to both the American Board of Veterinary Practitioners and the American Veterinary Dental College. His practices, All Pets Dental Clinic and Pet Health Care Center, have been caring for your pets since 1977. All Pets Dental Clinic is located in Pembroke Pines, Florida just north of Miami and west of Fort Lauderdale. http://www.dentalvet.com
QUESTION: Patricia Stoop - How often should I brush my pup's teeth?
DENTALVET: Animals teeth should be brushed as frequently as you own--best twice daily.

QUESTION: Robin Duffy - When our little one's baby teeth don't fall out naturally, is it common to wait and see until almost 1 year old? If not, what is the right amount of time to wait?
DENTALVET: There is not a set time that the baby (deciduous) teeth fall out. As a rule two teeth of the same type should not be in the same socket at the same time. If the baby and adult tooth is in the same area at the same time the baby tooth needs to be removed. If you wait there is a possibility of orthodontic and periodontic disease in the future.

QUESTION: Gail, Cody & Ashleigh - I would like to know at what age should our furbaby start Having their teeth cleaned by the vet and how often? Thanks
DENTALVET: The first teeth cleaning occurs either at one year old or when bacteria (plaque) builds at the gum line of the rear teeth

QUESTION: Janaroi B. Scofield - When the owner of the Maltese does not take care of the teeth real well the first year of their life, should they be professionally cleaned then start brushing the teeth daily, or is it ok to just start brushing daily now even with the neglect for the first year ? I make myself sound bad, but since News Year Eve, we brush daily, but before that once a week only !! I just don't want to be wasting our time. They do have some tarter buildup, just a little though ! Thanks for your output !
DENTALVET: Best to have your dog's teeth evaluated by a veterinary dentist. Sixty percent of the problems are located below the gumline. If you need a referral call 800-332-avds

QUESTION: Shirley Dunn - What is the best doggie toothpaste to use? What is the best type of toothbrush? Should we brush both inside and outside the teeth? How often should we brush?
DENTALVET: Best type of toothpaste is one that pets can safely swallow. The St. Jons company makes CET paste which pets really like. They also make pet friendly toothbrushes. Only brush the outside of the upper teeth. Animals teeth should be brushed as frequently as you own--best twice daily.

To submit questions for "Ask the Dentalvet" email me Libby@malteseonly.com

DID YOU KNOW?
Cancer is the leading cause of death in dogs, accounting for about 47 percent of all disease-related deaths. Heart conditions follow at 12 percent
Source: Morris Animal Foundation
Most Americans believe they're doing a better job of caring for their pets than their parents did, but only 12 percent say they spend more time exercising their pets than Mom and Dad did. Source: Petco survey "How Do You Measure Up?" (1998)

10 TOP CRIMINAL OFFENSES YOU CAN WATCH FOR
Submitted by Mary Palmer
Here are 10 CRIMINAL OFFENSES you can watch for and if you witness any of these actions against animals, immediately call 1-800-628-5808 or 1-617-522-6008, The BOSTON, MASSACHUSETTS MSPCA. Your call will be confidential and if you wish it can be anonymous. They have given permission to pass these on to everyone. We can all help by reporting any of these that we see to the nearest Society For The Prevention Of Cruelty To Animals Organization. We can make a big difference in stopping the abuse and cruelty that goes on by participating and acting quickly.
1. Failing to provide an animal with proper food and water
2. Failing to provide an animal with proper shelter
3. Failing to provide an animal with necessary medical attention
4. Willfully abandoning an animal
5. Carrying a dog in the back of a pick-up truck without a harness or other restraint---in fact, transporting any animal in a way that might endanger it
6. Poisoning an animal, either deliberately or as a result of negligence
7. Hitting a dog or cat with a motor vehicle and failing to inform the owner or a police officer
8. Tormenting or torturing any animal, or permitting such cruelty
9. Beating, mutilating, or killing an animal
10. Using animals cruelly or inhumanely as bait in a race, game, or contest

LEAVING FIDO AND FLUFFY "HOME ALONE!"
Taken from the 1998 Special Issue of PetLife Magazine
You're running late for work and you grab your keys as you head for the door. But wait! Before leaving you switch on the TV, flick on the ceiling fan, throw some toys out in the living room, set out some food, and then rush off to work with half the lights in the house still on. Are the kids staying home from school today? Nope, just making sure Fido and Fluffy will be comfortable. According to a recent national survey of 1,225 pet owners in the United States and Canada conducted by the American Animal Hospital Association, more than three-fourths of pet owners surveyed feel guilty when they leave a pet home alone. The survey illustrates the steady climb of North American pets up the family tree. Here are some of the results:
76% of respondents feel guilty when leaving their pet home alone.
46% of pet owners stayed home more often because of their pet.
41% of dog owners take their dog on vacation with them, and 24 % take their dog to work
49% of pet owners sing to, or with, their pet.
37% of pet owners say that their pet's personality resembles their own.
57% of respondents would choose to be a dog if they were a pet; 33 percent would want to be a cat.



UPDATE ON OUR RECENT RESCUE
Baci (aka Sparky) ~3/30/99
"Hi Libby,
I've been meaning to write to tell you how precious our Baci is!! I adore him and so does Mia...and for that matter everyone who meets him! He is feeling more and more at home each day. Sometimes that worried look goes and he is clearly happy. He only gets worried if he thinks Mia or I might be leaving. I cannot tell you how precious he is and how we are spoiling him rotten...of course he cannot be rotten so we are just loving him as much as he will take! He dances and smiles and wiggles from head to toe! He now sleeps with me everynight ~ he started that last Friday for the first time. before that he seemed worried about my feet-sure he thought he would be kicked off- but now he is happy and hogs the little futon I sleep on! Thank you so much, Libby. Baci was family and trying to find us. We are so happy he is with us. In time he will become more and more secure and soon know that we will always be back when we go out. Yesterday he started barking after I left and again after Mia left. Mia calmed after I left and my son after Mia left. Toby said that Baci barked for quite a long time. It is just that he needs to feel secure that we are coming back...I am glad that he feels secure enough to bark!! MaryP suggested that I wait outside the door until the barking stops and then go back in and give him praise ~ he does not take treats.Take good care! Much love to Buster from Baci, (((hugs))),
Christine"
P.S. A Special Thanks to the National Maltese Rescue! You do make dreams come true.


---