Maltese Only News
December 2001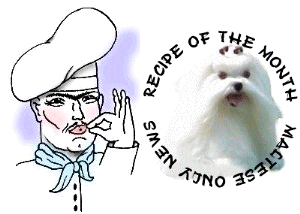 Puppy Dog Egg Nog
1 container plain yogurt
1 jar baby food (any meat flavor)
1 large can evaporated milk
1 egg
1 1/2 cups water
Blend all ingredients and serve in holiday bowls.


---

Christmas Mint Cookies
1 1/2 cups whole wheat flour
1 1/2 cups bisquick
1/2 cup mint chopped leaves
1/4 cup milk
4 tablespoons margarine
1 egg
1 1/2 teaspoons corn syrup
Combine all ingredients in food processor, process until well mixed Roll out on a floured surface to 1/4 to 1/2 inch thickness. Cut with holiday shaped cookie cutters, place on non-stick cookie pan. Bake at 375 F for 20 minutes or until lightly browned. Cool and store in air-tight container.








---
©2001 Maltese Only News, All Rights Reserved