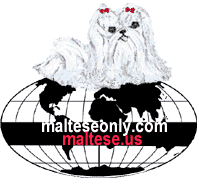 Maltese Only Survey Question
Please submit your response on one of the following topics::
What brand food are you currently feeding your Maltese?
Do you brush your Maltese's teeth at least once a week?


The Largest & Most Complete Maltese dog website in the World


Maltese Only created by Jay Bianco
©1996-2012 All rights reserved.
Republication or redistribution of this page or its contents is expressly
prohibited without the prior written consent.
---
Survey Administrator Only